Financial News
CopperJoint Ankle Compression Sleeve 3D Design Wins Exceptional Feedback
April 16, 2021 at 10:20 AM EDT
For an ankle support product to be as effective as possible it needs to be a great fit and deliver the right amount of compression. The new ankle sleeve from CopperJoint delivers all of this and more.
(PRUnderground) April 16th, 2021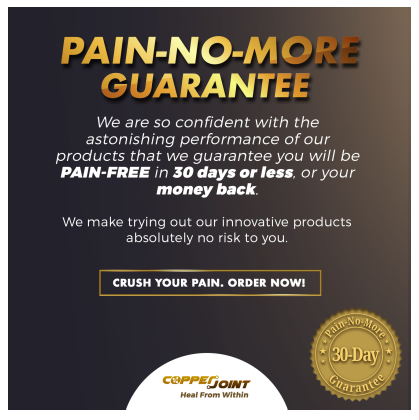 Finding a joint support brace that relieves pain and helps mobility can be extremely difficult. A major part of this problem is due to old manufacturing methods and poor fits. Fortunately, a young brand has risen to the top of its space breaking this mold. In that spirit, CopperJoint recently celebrated the success of its CopperJoint Ankle Compression Sleeve, a product winning praise for its superior fit and support, results of its high tech 3D design. All while still being set at an exceptionally attractive price point. The ankle compression sleeve, along with the rest of the CopperJoint line of wellness products, is available on the Amazon.com marketplace.
"We have an exceptionally skilled team that develops products using the latest and most effective techniques to deliver the best results possible," remarked Stefano Starkel, Founder of CopperJoint. "This is really clear with our ankle compression sleeve that is becoming so popular right now with our valued customers. We look forward to continuing to create, manufacture and market the best joint support products available today."
According to CopperJoint, the ankle compression sleeve is being used to address a number of quite common issues including Plantar Fasciitis, heel pain, Achilles Tendonitis, a wide-range of inflammation issues, sports and exercise related injuries, overuse pain, and muscle pulls and twists. The combination of a superior fit, tight compression, and the sleeve's adjustable strap all combine to offer relief. In addition, pure copper is infused in the ankle compression sleeve, something believed by holistic health experts to improve and enhance recovery.
Feedback for the product has been exceptionally positive.
Michael U., recently said in a five-star review, "Lots of stuff going on with my feet, I won't bore you with details. But I want to put off surgery without doing too much additional damage. My hope was that compression would stabilize the foot structure somewhat so I can work and recreate with reduced pain. So far, it's working. I also received a coupon with a nice discount on a second order, and now I can use a fresh sleeve every day always having a fresh one available. I'll be buying more in the future."
For more information or to order be sure to visit https://www.amazon.com/ankle-compression-sleeve/dp/B085RW3QQ1.
About CopperJoint
At CopperJoint, we provide drug-free, pain-relief solutions by creating premium copper-infused garments and supports. Our goal is to improve the quality of life for people suffering from joint and muscle pain due to accidents, arthritis, age, or injury. We are committed to use only the highest copper content and make copper compression therapy affordable for everyone.
The post CopperJoint Ankle Compression Sleeve 3D Design Wins Exceptional Feedback first appeared on PRUnderground.
Press Contact
Name: Stefano Starkel, Founder

Phone: 307-309-4055

Email: Contact Us

Website: https://www.copperjoint.com
Original Press Release.