Financial News
Altera Demos Motor Control and Battery Management Solutions at Electric & Hybrid Technology Expo 2015
September 10, 2015 at 08:00 AM EDT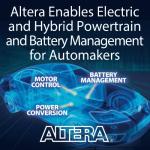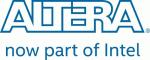 SAN JOSE, Calif., Sept. 10, 2015 /PRNewswire/ -- Altera Corporation (NASDAQ: ALTR) is demonstrating its industry-leading programmable logic solutions for electric and hybrid vehicle powertrains and battery management systems at the Electric & Hybrid Technology Expo 2015, being held at the Suburban Collection Showplace in Novi, Michigan, from September 14 to 17. Visit the Altera booth (#737A) to learn how Altera FPGAs (field programmable gate arrays) can improve system performance, accelerate time-to-market, and reduce total cost of ownership for automotive designs.
Demonstrations at the Altera booth include:
Tandem Motion-Power 48V prototyping board that uses Altera's Max® 10 FPGA and controls a dual axis motor with DC/DC conversion (12V to 48V), and which supports optional battery power capability.

Battery Management System (BMS)

that uses an FPGA-powered SOC (state of charge) estimator, running on an Altera Cyclone® V SoC (system on chip) that demonstrates the high accuracy and breakthrough performance of FPGA-enabled electric vehicle BMS systems, developed by the University of

Pisa, Italy

.

New Charging Curve Analysis (CCA) Technology

that uses an Altera Cyclone V FPGA to provide a much more accurate estimation of the battery's SOC and SOH (state of health). This patented technology allows maximum utilization of battery capacity within minimum error of estimation even after a long life usage cycle.
According to Tak Ikushima, Sr. Marketing Manager in the Automotive Business Unit at Altera, "Microcontrollers used to be sufficient, but they are now hitting a ceiling in performance as automotive applications become smarter and more demanding. Altera is seeing a lot of opportunities in this area because FPGAs offer parallel processing without much power being dissipated, and they are also more deterministic in real-time, which allow them to process higher performance computations."
Altera Automotive Solutions
Automotive OEMs and manufacturers use Altera FPGAs and CPLDs to differentiate their automobiles with powerful, cost-effective, flexible design platforms that meet the performance, quality, life cycle, and scalability needs of their increasingly complex digital systems. With Altera automotive products, they can reduce system costs, improve reliability, and simplify complexity to accelerate time to market.
Learn more about Altera's complete portfolio of electronic design solutions for the automotive industry design including ADAS, infotainment and functional safety solutions at http://www.altera.com/automotive.   
About Altera
Altera® programmable solutions enable designers of electronic systems to rapidly and cost effectively innovate, differentiate and win in their markets. Altera offers FPGA, SoC, CPLD, and complementary technologies, such as power solutions to provide high-value solutions to customers worldwide. www.altera.com
ALTERA, ARRIA, CYCLONE, ENPIRION, MAX, MEGACORE, NIOS, QUARTUS and STRATIX words and logos are trademarks of Altera Corporation and registered in the U.S. Patent and Trademark Office and in other countries. All other words and logos identified as trademarks or service marks are the property of their respective holders as described at www.altera.com/about/legal.html.
Editor Contact:
Karin Taylor
Altera Corporation
(408) 544-8207
newsroom@altera.com
Photo - http://photos.prnewswire.com/prnh/20150910/265235 
Logo - http://photos.prnewswire.com/prnh/20101012/SF78952LOGO
To view the original version on PR Newswire, visit:http://www.prnewswire.com/news-releases/altera-demos-motor-control-and-battery-management-solutions-at-electric--hybrid-technology-expo-2015-300140615.html
SOURCE Altera Corporation