Financial News
Pan American Energy Provides a Midway Update on the Horizon Lithium Phase One Drill Program
March 22, 2023 at 15:47 PM EDT
The Company has completed six of the eleven fully funded drillholes planned and permitted for Phase I, intercepting over 86% of total drill footage within the Siebert Formation.
Despite drilling to nearly 1,000 ft, Pan American has not encountered the base of the Seibert Formation, which has locally been shown to host significant lithium grades.  
Calgary AB – March 22, 2023 – Pan American Energy Corp.  (the "Company" or "Pan American") (CSE:PNRG) (OTC PINK:PAANF) (FRA:SS6) is pleased to announce the Company and its contractors ("Contractors"), KB Drilling ("KB") and RESPEC Consulting Inc. ("RESPEC") has encountered a total of 3297.50 feet of continuous potential lithium-bearing claystone and sedimentary units across six (6) of the eleven (11) funded drill hole program. The Company is permitted for a total of twenty-two drill holes to a max depth of 1,000 ft per hole.
The Company completed the sixth (6) drillhole, HL020, on March 19th, 2023, drilling to a total depth of 598 feet. Of the total drill footage to date, over eighty-six (86) percent (%) has been in the Siebert Formation, which has been proven by neighboring projects to host significant lithium grades at multiple horizons. The Company and its contractors have mobilized and begun drilling at the seventh (7) drillhole, HL018, which is at the center of the northern border of the property, adjacent to American Battery Technology Corp's ("ABTC") Tonopah Flats southern border. To date, the Company has not encountered bedrock or the base of the Siebert Formation, creating an opportunity for deeper drilling in follow-on exploration programs.
Jason Latkowcer, Pan American's Chief Executive Officer, states, "We are thrilled with the results of our drill program thus far and are highly optimistic based on visual logging and our geologist's interpretation of the core. With each drill hole, we are observing increasing thicknesses of potential lithium-bearing claystone as progress approaches the anticipated center of the depositional basin. Having not encountered the base of the Siebert Formation, we believe there to be a tremendous opportunity for program expansion in subsequent exploration phases. Assay samples are in queue and will help quantify and validate our belief in the project's potential. We look forward to continuing to execute towards our goal of defining the lithium potential on our property".
Figure 1: Drilling Tracker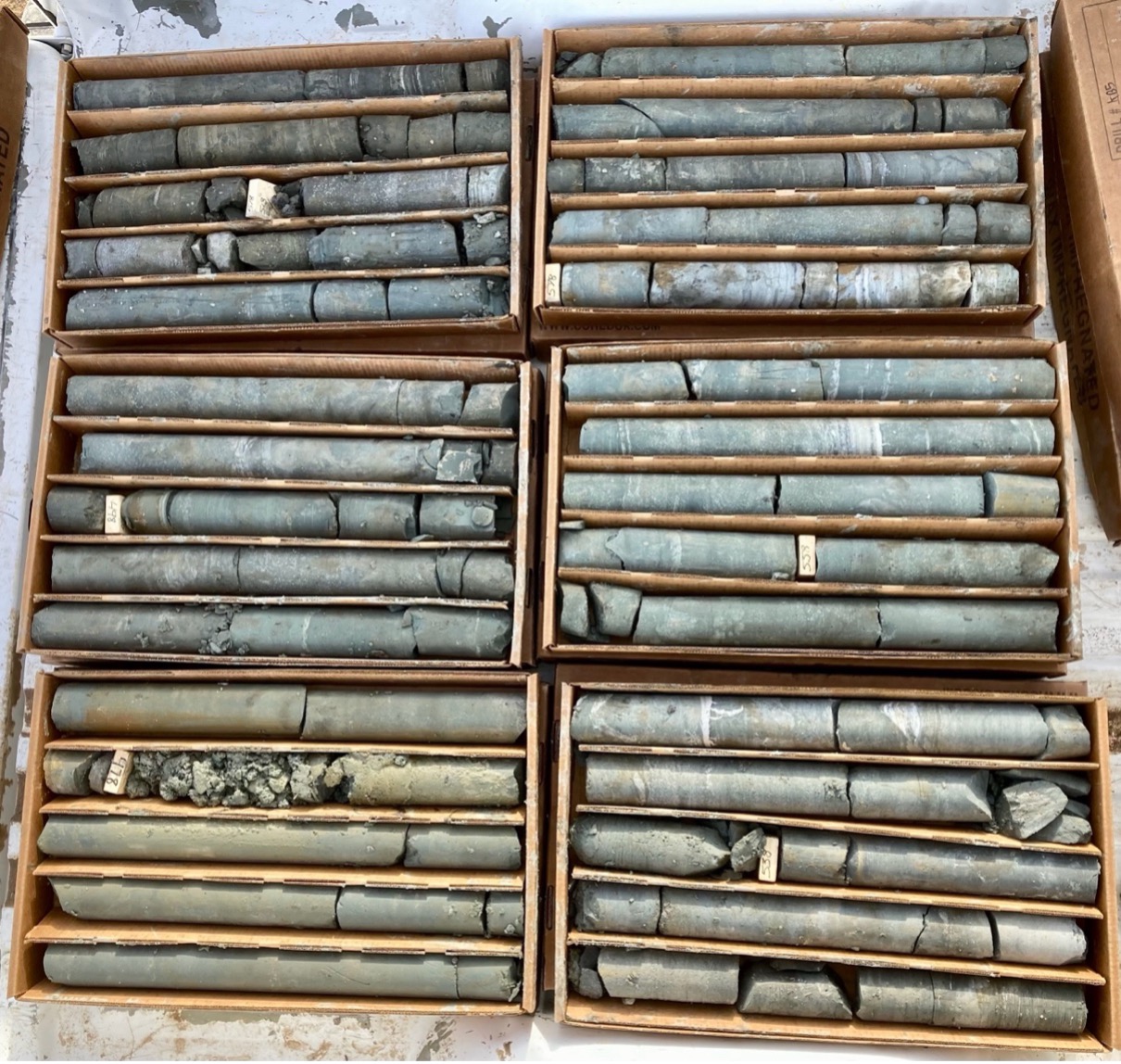 Figure 2: Drill Hole, HL020, Core
Figure 3: Drill Hole, HL022, Core
Figure 4: Yohaly Mwamba, RESPEC Project Geologist, Logging HL010 Core

Qualified Person

The technical content of this news release has been reviewed by Tabetha Stirrett, P.Geo, who is a Qualified Person as defined by NI 43-101.

About Pan American Energy Corp.  

Pan American Energy Corp. (CSE:PNRG) (OTC PINK:PAANF) (FSE:SS6) is an exploration stage company engaged principally in the acquisition, exploration and development of mineral properties containing battery metals in North America.

The Company's maiden asset is the 100% owned Green Energy Lithium Project, located in the Paradox Basin, Utah, USA. The Company has also entered a property option agreement with Horizon Lithium LLC with the right to acquire 100% interest in the Horizon Lithium Project, located within the Clayton Valley – Tonopah Lithium Belt, Nevada, USA.

The Company executed an option agreement in Canada with Magabra Resources with the right to acquire up to 90% interest in the drill-ready Big Mack Lithium Project, 80 km north of Kenora, Ontario.

On Behalf of the Board of Directors
Jason Latkowcer
CEO & Director

Contact
Phone : (587) 885-5970
Email: info@panam-energy.com

Forward-Looking Statements

Certain statements contained in this press release constitute forward-looking information. These statements relate to future events or future performance. The use of any of the words "could", "intend", "expect", "believe", "will", "projected", "estimated" and similar expressions and statements relating to matters that are not historical facts are intended to identify forward-looking information and are based on the Company's current beliefs or assumptions as to the outcome and timing of such future events. In particular, this press release contains forward-looking information relating to, among other things, the Company's planned drilling and sampling program, including the date upon which the Company expects to announce its phase one plans, the amount of drilling to be contained in such program and the proposed location of the exploration undertaken as part of the program, and the potential commercialization of the Property.

Various assumptions or factors are typically applied in drawing conclusions or making the forecasts or projections set out in forward-looking information, including, in respect of the forward-looking information included in this press release, the assumption that: the Company will be successful in commercializing the Property and that the Company will undertake its planned drilling and sampling program on the timeline and parameters that are currently expected. Such assumptions and factors are based on information currently available to the Company.

Although forward-looking information is based on the reasonable assumptions of the Company's management, there can be no assurance that any forward-looking information will prove to be accurate. Forward looking information involves known and unknown risks, uncertainties and other factors which may cause the actual results, performance or achievements to be materially different from any future results, performance or achievements expressed or implied by the forward-looking information. Such factors include risks inherent in the exploration and development of mineral deposits, including risks relating to changes in project parameters or delays as plans continue to be redefined, that mineral exploration is inherently uncertain and that the results of mineral exploration may not be indicative of the actual geology or mineralization of a Project, and that mineral exploration may be unsuccessful or fail to achieve the results anticipated by the Company, including the establishment of a commercial mining operation. The forward-looking information contained in this release is made as of the date hereof, and the Company not obligated to update or revise any forward-looking information, whether as a result of new information, future events or otherwise, except as required by applicable securities laws. Because of the risks, uncertainties and assumptions contained herein, investors should not place undue reliance on forward-looking information. The foregoing statements expressly qualify any forward-looking information contained herein.

The CSE has neither approved nor disapproved the information contained herein.

Featured Image @ Pan Americas Energy Corp

Disclosure:

1) The author of the Article, or members of the author's immediate household or family, do not own any securities of the companies set forth in this Article. The author determined which companies would be included in this article based on research and understanding of the sector.

2) The Article was issued on behalf of and sponsored by, Pan American Energy Corp. Market Jar Media Inc. has or expects to receive from Pan American Energy Corp.'s Digital Marketing Agency of Record (Native Ads Inc.) one hundred and ninety-one thousand, eight hundred Canadian dollars for 26 days (20 business days).  

3) Statements and opinions expressed are the opinions of the author and not Market Jar Media Inc., its directors or officers. The author is wholly responsible for the validity of the statements. The author was not paid by Market Jar Media Inc. for this Article. Market Jar Media Inc. was not paid by the author to publish or syndicate this Article. Market Jar has not independently verified or otherwise investigated all such information. None of Market Jar or any of their respective affiliates, guarantee the accuracy or completeness of any such information. The information provided above is for informational purposes only and is not a recommendation to buy or sell any security. Market Jar Media Inc. requires contributing authors to disclose any shareholdings in, or economic relationships with, companies that they write about. Market Jar Media Inc. relies upon the authors to accurately provide this information and Market Jar Media Inc. has no means of verifying its accuracy.

4) The Article does not constitute investment advice. All investments carry risk and each reader is encouraged to consult with his or her individual financial professional.  Any action a reader takes as a result of the information presented here is his or her own responsibility. By opening this page, each reader accepts and agrees to Market Jar Media Inc.'s terms of use and full legal disclaimer as set forth here. This Article is not a solicitation for investment. Market Jar Media Inc. does not render general or specific investment advice and the information on PressReach.com should not be considered a recommendation to buy or sell any security. Market Jar Media Inc. does not endorse or recommend the business, products, services or securities of any company mentioned on PressReach.com. 

5) Market Jar Media Inc. and its respective directors, officers and employees hold no shares for any company mentioned in the Article.

6) This document contains forward-looking information and forward-looking statements, within the meaning of applicable Canadian securities legislation, (collectively, "forward-looking statements"), which reflect management's expectations regarding Pan American Energy Corp.'s future growth, future business plans and opportunities, expected activities, and other statements about future events, results or performance. Wherever possible, words such as "predicts", "projects", "targets", "plans", "expects", "does not expect", "budget", "scheduled", "estimates", "forecasts", "anticipate" or "does not anticipate", "believe", "intend" and similar expressions or statements that certain actions, events or results "may", "could", "would", "might" or "will" be taken, occur or be achieved, or the negative or grammatical variation thereof or other variations thereof, or comparable terminology have been used to identify forward-looking statements. These forward-looking statements include, among other things, statements relating to: (a) revenue generating potential with respect to Pan American Energy Corp.'s industry; (b) market opportunity; (c) Pan American Energy Corp.'s business plans and strategies; (d) services that Pan American Energy Corp. intends to offer; (e) Pan American Energy Corp.'s milestone projections and targets; (f) Pan American Energy Corp.'s expectations regarding receipt of approval for regulatory applications; (g) Pan American Energy Corp.s intentions to expand into other jurisdictions including the timeline expectations relating to those expansion plans; and (h) Pan American Energy Corp.'s expectations with regarding its ability to deliver shareholder value. Forward-looking statements are not a guarantee of future performance and are based upon a number of estimates and assumptions of management in light of management's experience and perception of trends, current conditions and expected developments, as well as other factors that management believes to be relevant and reasonable in the circumstances, as of the date of this document including, without limitation, assumptions about: (a) the ability to raise any necessary additional capital on reasonable terms to execute Pan American Energy Corp.'s business plan; (b) that general business and economic conditions will not change in a material adverse manner; (c) Pan American Energy Corp.'s ability to procure equipment and operating supplies in sufficient quantities and on a timely basis; (d) Pan American Energy Corp.'s ability to enter into contractual arrangements with additional Pharmacies; (e) the accuracy of budgeted costs and expenditures; (f) Pan American Energy Corp.'s ability to attract and retain skilled personnel; (g) political and regulatory stability; (h) the receipt of governmental, regulatory and third-party approvals, licenses and permits on favorable terms; (i) changes in applicable legislation; (j) stability in financial and capital markets; and (k) expectations regarding the level of disruption to as a result of CV-19. Such forward-looking information involves a variety of known and unknown risks, uncertainties and other factors which may cause the actual plans, intentions, activities, results, performance or achievements of Pan American Energy Corp. to be materially different from any future plans, intentions, activities, results, performance or achievements expressed or implied by such forward-looking statements. Such risks include, without limitation: (a) Pan American Energy Corp.'s operations could be adversely affected by possible future government legislation, policies and controls or by changes in applicable laws and regulations; (b) public health crises such as CV-19 may adversely impact Pan American Energy Corp.'s business; (c) the volatility of global capital markets; (d) political instability and changes to the regulations governing Pan American Energy Corp.'s business operations (e) Pan American Energy Corp. may be unable to implement its growth strategy; and (f) increased competition.

Except as required by law, Pan American Energy Corp. undertakes no obligation to update or revise any forward-looking statements, whether as a result of new information, future event or otherwise, after the date on which the statements are made or to reflect the occurrence of unanticipated events. Neither does Pan American Energy Corp. nor any of its representatives make any representation or warranty, express or implied, as to the accuracy, sufficiency or completeness of the information in this document. Neither Pan American Energy Corp. nor any of its representatives shall have any liability whatsoever, under contract, tort, trust or otherwise, to you or any person resulting from the use of the information in this document by you or any of your representatives or for omissions from the information in this document.

7) Any graphs, tables or other information demonstrating the historical performance or current or historical attributes of Pan American Energy Corp. or any other entity contained in this document are intended only to illustrate historical performance or current or historical attributes of Pan American Energy Corp. or such entities and are not necessarily indicative of future performance of Pan American Energy Corp. or such entities.

Read more investing news on PressReach.com.Subscribe to the PressReach RSS feeds:

Follow PressReach on Twitter
Follow PressReach on TikTok
Follow PressReach on Instagram
Subscribe to us on Youtube