Financial News
Ricky Ramos Granted 'Marketing 2.0 Outstanding Leadership Award' at 2022 Marketing 2.0 Conference in Las Vegas, Nevada
May 06, 2022 at 13:15 PM EDT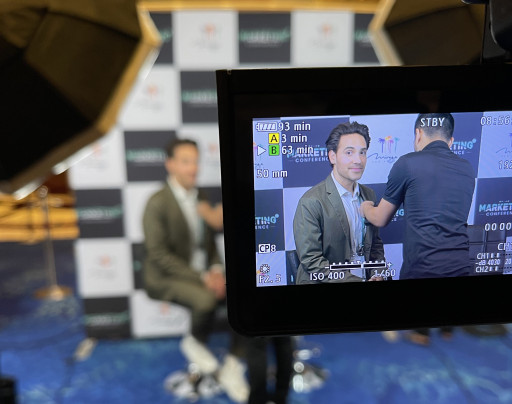 Ricky Ramos Granted 'Marketing 2.0 Outstanding Leadership Award'

Ricky Ramos\u2014brand consultant and strategy director and host of the Creating Brand You podcast\u2014was awarded The Marketing 2.0 Outstanding Leadership Award by the prestigious Marketing 2.0 Conference for his contributions.

LAS VEGAS - May 6, 2022 - (Newswire.com)


Brand consultant and strategy director and host of the Creating Brand You podcast— was awarded The Marketing 2.0 Outstanding Leadership Award by the prestigious Marketing 2.0 Conference (https://www.marketing2conf.com/) for his contributions to the field of marketing and advertising. He was formally recognized for his outstanding marketing expertise and contributions at the 2022 Marketing 2.0 Conference, held at The Mirage Hotel and Casino in Las Vegas in April 2022. 

This award recognizes Ricky for his leadership in marketing and the inspiration he brings to others. Ricky's strengths as a leader make him unique in his field, which is why his clients value him for his creative confidence, cultural sensitivity, and multi-functional marketing skills. Ricky has led a wide range of projects in his career, which brought a wide array of challenges, from developing education for corporate communication on LGBTQ+ pride to traveling to multiple countries, requiring that he communicate in three different languages. Rather than allowing such challenges to deter him, he takes them on with zest and energy and sees them through to achieve outstanding results, leaving his clients consistently satisfied. Ricky Ramos distinguishes himself as both a leader and a marketing professional for these qualities and more.

Ricardo Ramos Lazcano's colorful story began with being born in metropolitan Mexico City. He attended university in Milan, Italy, graduating from Istituto Europeo di Design with a bachelor's degree in Business Communication and a Master's in Brand Management. Additionally, he has earned certifications in Product Management, Graphic Design, and Insights for Innovation. Boasting an international career in brand strategy and shopper marketing, from Mexico City to Milan to New York, he has led culturally diverse teams to success; with global experience, his roles have ranged from strategy to design to client management.

Ricky now works in New York City and Mexico City alongside global brands as a strategist, copywriter, creative director, and client manager in diverse markets within the food, beverage, hospitality, wine, and lifestyle spaces. A member of the LGBTQ community with a background spanning from Mexico to Italy to the United States, Ricky possesses the unique empathy needed to understand and speak to different audiences, properly pinpointing the correct communication channels. He stands apart as a brand strategist due to his creative edge, and he is proud to consistently break the traditional marketing profession's mold.

"Marketing is one of the few business environments that celebrate both creative and strategic achievements," Ricky says. "I have found strength and support in this environment where I've been able to merge, with great success, strategic thinking with my creative mindset."

Before his award at the Marketing 2.0 Conference, Ricky has also been recognized and awarded for his global brand strategy work alongside creative agency partners. His previous recognitions include:
MarCom Awards and Hermes Creative Awards—for his conceptual work in GHQ office spaces, as well as retail innovation launches, coordination, planning, and ground execution.
Summit Creative Awards—for his brand strategy and creative direction in portfolios and e-cataloging.
Creativity International Awards—for his excellence in the market introduction and retail communication.
His other marketing accolades include such projects as:
Made in Itaca, Agency Growth - acting as Managing Partner and Strategy Director for his single job consulting to sister agency formulation.
ABInbev Global Diversity & Inclusion - for the LGBTQ Pride educational GHQ office execution and global corporate communication.
ABInbev Global Brands - Corona Extra Global Portal to Paradise retail innovation launch.
"I consider an achievement when a project I'm involved in not only has given me in-house distinction but has had a clear impact on our profession by opening new ways of thinking towards our marketing work," Ricky states. "To avoid being pigeonholed into a profession, I have sought to show my team, clients, and peers that we can be and do more than what is defined by our titles."

For more information on Ricky Ramos and his services and to see client testimonials, visit www.rickyramos.me. "Creating Brand You," his podcast, is available for streaming on Spotify, with new episodes posted every two weeks. He can also be found on Instagram (@rickyramox), where he shares news and updates about his podcast and other work.




Press Release Service by Newswire.com

Original Source: Ricky Ramos Granted 'Marketing 2.0 Outstanding Leadership Award' at 2022 Marketing 2.0 Conference in Las Vegas, Nevada