Financial News
Flowers on arrival: Journify & Flower Chimp introduce "gate delivery service" at KLIA
September 05, 2023 at 00:25 AM EDT
Picture this - your loved one steps off the plane, after a long & tiresome journey, only to be greeted by a fresh bouquet of flowers right at the arrival gate! Did someone say V.I.P.?
Federal Territory of Kuala Lumpur, Malaysia - September 5, 2023 —
Flower Chimp, Malaysia's leading online flower & gift delivery service, is proud to announce its exciting new partnership with Journify, revolutionizing the way we welcome our loved ones. This groundbreaking collaboration brings forth an exclusive service that allows customers to give their loved ones the V.I.P. welcome by delivering fresh flowers directly at their arrival gate, even before baggage claim and immigration. Flower Chimp is the first flower delivery service to offer this remarkable experience, making reunions and special moments even more memorable.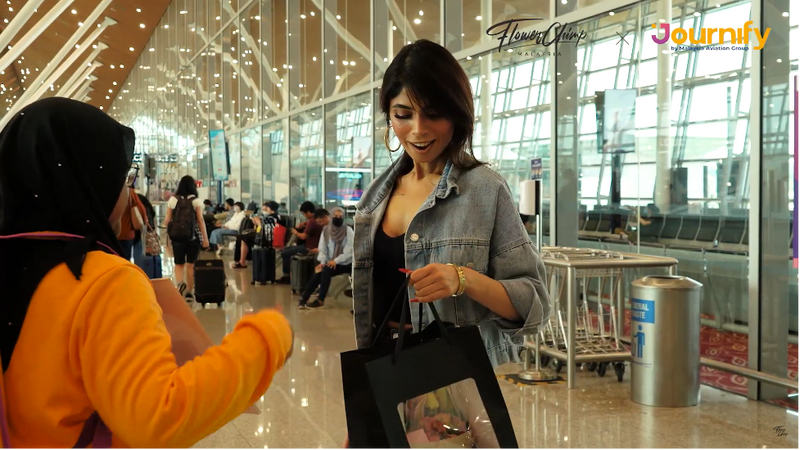 Philip See, Chief Executive Officer of Loyalty & Travel Services of Malaysia Aviation Group (MAG) said, "We are proud to partner with Flowerchimp to deliver experiences and journeys for our customers, especially for special occasions like birthdays, anniversaries, home comings and such."
The Flower Chimp-Journify partnership at KLIA 1 aims to make your presence felt, every step of the way - all while giving your loved ones the welcome that they deserve. With this innovative service, you can go the extra mile to surprise your friends, family, loved ones, and even business associates - and welcome them with a bloom.
Flower Chimp has always been dedicated to providing the highest quality floral arrangements for all of life's occasions. With their extensive collection of exquisite bouquets, gifts, and floral arrangements, Flower Chimp ensures that each gift is a reflection of love, joy, and thoughtfulness.
Make your loved ones' arrival at KLIA 1 Airport truly unforgettable with Flower Chimp's exclusive airport delivery service. For more information or to place an order, visit https://shop.myjournify.com/search?category=2931&vendor[0]=274
 About Limitless Technology
Founded in 2016 by German entrepreneurs Maximilian Lotz and Niklas Frassa, Limitless Technology is an e-commerce holding company active in Malaysia, Indonesia, Philippines, Hong Kong, and Singapore with their flagship brands such as Flower Chimp and CakeRush.
Specially catering to consumers in the gifting and lifestyle e-commerce segment, the group strives to serve the growing demand for gift delivery and other categories across South East Asia with high-caliber technologies, services, and teams.
Contact Info:
Name: Amol Kale
Email: Send Email
Organization: Limitless Technology Sdn Bhd
Website: https://www.flowerchimp.com

Video URL: https://youtu.be/nC2i2Kj-3Og
Release ID: 89106643
If there are any problems, discrepancies, or queries related to the content presented in this press release, we kindly ask that you notify us immediately at error@releasecontact.com. Our responsive team will be available round-the-clock to address your concerns within 8 hours and take necessary actions to rectify any identified issues or support you with press release takedowns. Ensuring accurate and trustworthy information is our unwavering commitment.