Financial News
US Border Reporter Todd Bensman Interview Released By Independent News Portal
August 29, 2023 at 07:57 AM EDT
NewsBlaze, an independent online newspaper committed to telling stories that other organizations are not covering, has released more breaking news from the US border with Mexico.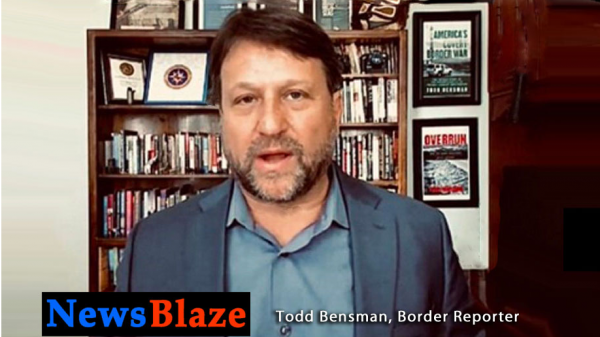 Murray Bridge, Australia - August 29, 2023 —
The independent news institute's latest article has been authored by stalwart NewsBlaze journalist Martha Rosenberg and features an interview with Todd Bensman, a Fellow at the Center for Immigration Studies, a longtime reporter and the author of a new book titled 'Overrun: How Joe Biden Unleashed the Greatest Border Crisis in US History'. NewsBlaze believes their latest article on the US border crisis reflects their commitment to transparent and timely news reporting and to unbiased truth-seeking investigative journalism.
For more details, visit https://newsblaze.com/issues/immigration/why-is-this-crisis-being-ignored-interview-with-border-reporter-todd-bensman_192502/
In the article, 'Why Is This Crisis Being Ignored? Interview with Border Reporter Todd Bensman', Rosenberg exposes the under-reporting of the current US border crisis, and the extent to which most mass media institutions have neglected to report on the flow of migrants that are seeking to enter the United States through its southern border with Mexico.
The article delves into the complex reasons for this silence—suggesting that it stems from the open border policy fostered by the Democrats and the complicity of border patrol and other government organizations—and argues that the stories from the US border must come to light. As Rosenberg reports, Bensman believes the ramifications of this border crisis and the increasing flow of illegal migrants that has occurred in the years since President Biden's inauguration have implications for all Americans.
Having spent years on the border, Bensman explains that, in his opinion, many asylum seekers are simply aspirational migrants who have been led by current government policy to believe that the US' southern border is open.
Martha Rosenberg is one of NewsBlaze's leading Investigative Correspondents.
NewsBlaze was founded in 2004 as an independent online newspaper and information portal, forming relationships with other publishers and wire services. NewsBlaze covers broad topics of interest to readers worldwide, which has helped build a loyal, global following of readers, especially in Australia, North America and Europe.
A spokesperson for the online newspaper said, "This revealing interview with Todd Bensman sheds light on a series of unreported issues and policy changes at the US' southern border. The mainstream media has largely ignored the dramatic shifts in policy since the inauguration in 2021, the complications with the asylum system, collaboration between border patrol agents and cartel pilots, and the consequences of mass migration from over 160 countries on local communities. Bensman's insights provide a stark contrast to the public's understanding of border issues, challenging conventional narratives and raising serious questions about the transparency and accountability in immigration enforcement and reporting."
Interested readers can find out more at https://newsblaze.com/issues/immigration/why-is-this-crisis-being-ignored-interview-with-border-reporter-todd-bensman_192502/
Contact Info:
Name: Alan Gray
Email: Send Email
Organization: NewsBlaze Pty. Ltd.
Address: 9 Edwards St, Murray Bridge, SA 5253, Australia
Phone: +61-8-8531-0254
Website: https://newsblaze.com

Source: PressCable
Release ID: 89106126
In the event of detecting errors, concerns, or irregularities in the content shared in this press release that require attention or if there is a need for a press release takedown, we kindly request that you inform us promptly by contacting error@releasecontact.com. Our dedicated team will promptly address your feedback within 8 hours and take necessary actions to resolve any identified issues diligently or guide you through the removal process. Providing accurate and dependable information is our utmost priority.