Financial News
Japan Merging Healthcare Data with My Card Highlights Jasmy's Personal Data Locker Tech
June 12, 2023 at 06:41 AM EDT
Japan's new law to merge health insurance data with My ID card highlights the shift underway toward data privacy tools like Jasmy's Personal Digital Lockers
United States - June 12, 2023 —
Data Privacy Week might be an annual campaign that aims to educate people and businesses about the value of maintaining online privacy but as privacy laws continue to grow across the world, most businesses are realizing that people could soon become a lot more demanding about the need to uphold the sacredness of their personal data, not allowing marketing agencies or data aggregators get easy access to sensitive information. Better, more fool-proof data security standards are being demanded by people and governments are increasingly trying to settle the growing apprehensions about illicit data sharing.

Recently, Japan enacted a law that merges the health insurance cards of its citizens with the unique, My Number IDs [My Card]. This is just one of the many recent trends that are indicating a gradual shift towards guarding the personal data of the people. For regulatory bodies and the people, real-life examples of such outcomes being achieved by some crypto brands and currencies are getting increasingly hard to ignore.

The Japanese government elaborated this data security move, clarifying that certificates would be issued to those who do not have the My Number cards but such citizens might end up paying more for the same type of treatment. The move also underlines the seriousness of such data unification and data protection standards—very soon, it might no longer be a choice. The My Card process started in 2016, and it provided the Japanese people with a 12-digit number card that captured comprehensive personal data of the people, including things like access to social security or taxation. With the merging of health insurance data with this card, the country is essentially adding more fuel to the country's digitization process. While people might claim that the big benefit is about data centralization, via one card, easing digital data processing when seeking treatments or making a health insurance claim, it is also about adding more layers of security to someone's personal data—the card functioning just like a locker containing valuable items, albeit in a digital form.

Personal customer information, varying from the email address to financial transactional history can be stolen and misused by data hackers and digital agencies that use this data to manipulate and influence consumer behavior. Such situations occur simply because every digital activity creates digital footprints. Every type of digital resource we use, including websites and apps, tends to maintain these footprints for some time and when such data is traced, warehoused, and harvested, consumer behaviors can be tracked, buying interests can be turned into analytical reports, and online purchase history can lead to finding a loophole in someone's closely guarded data. 
"Jasmy platform users have "personal data locker" in our distributed storage to hold their data. Important personal data & IoT device data will be stored and managed in lockers, all events like sharing data to whom and to what extent will be determined by the users themselves." - Hiroshi Harada, CFO, Jasmy Inc.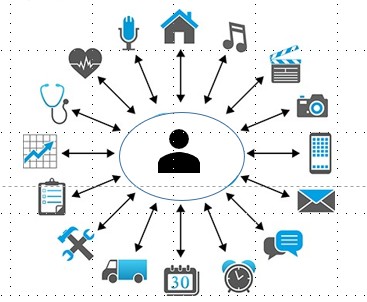 This has been understood by crypto brands who are increasingly moving towards the IoT business mode. Cryptocurrency platforms, like Jasmy, are a good example of how data can coexist in a decentralized environment without any threat of data breach or data theft. Jasmy has been able to achieve this by developing Personal Data Lockers. These lockers are delivering the type of digital data democracy and control that initiatives like the one in Japan are trying to achieve. This emerging data environment suggests that service providers are not entitled to get free access to user information. As long as consumer data is safely stored in such digital lockers, it is free from prying data-gathering robots and software technologies. 

As Japan moves ahead with this law, the adoption of the My Number cards should increase and with a large number of people already possessing such cards, this shift to merge health insurance cards with customer IDs/numbers does not come with a major roadblock. Estimates suggest that more than 91 million people in Japan already have My Number cards, further highlighting that Japan is taking slow but firm steps to ensure its citizens' data is not vulnerable.

Just like the My Number system aims to streamline the layers of control around personal health insurance data, crypto brands are advocating and practicing technologies that integrate a person's data in a tokenized ecosystem where the ownership of data is not compromised. Japan is also hoping to crypto platforms, like Jasmy, that are helping people understand the leverages of data tokenization for better data protection standards. Japan is not the only nation where this shift is underway. GDPR or the European Union's General Data Protection Regulation is also moving ahead to achieve better personal data regulations.

The Consumer Privacy Survey suggests that people are seeking better ways that can promise data democracy, breaking away from the clout of data collation and sharing being controlled by big tech companies. As a move towards Web 3.0 is underway, there is a chance of first-party data taking more control. At the outset, this could mean finding ourselves browsing without the fear of tracker cookies at play. The more responsible tech companies should not have an issue with seeking approval to gather first-party data. Data gathered with consent also translates into qualitatively better data and takes away the dependency on data-gathering technologies or agencies that procure consumer data using less ethical methods with the promise of adding more value to the digital marketing success ratio.

About Us: Based out of Miami, Florida, LinkDaddy is a full-scale SEO services provider. The company provides effective search engine optimization strategies & solutions to create more online engagement for a brand. Whether it is a neighborhood business that wants to feature higher up in the local search results or a startup pursuing a better ranking for its YouTube videos, LinkDaddy provides customized packages for all SEO requirements. The agency offers end-to-end backlinking services that include tier 1 backlinks, do-follow backlinks, Google Stack backlinks, local SEO backlinks, and mass page website backlinks. Business owners can ask for LinkDaddy's domain power booster services with the confidence of legitimate, white hat SEO practices only. With access to one of the world's most extensive niche blog networks, LinkDaddy can boost the relevance of web pages and other digital assets, helping business websites rank higher for different keywords and targeted locations. Customers can always opt for a no-obligation, zero-cost Free Trial to understand the ethical link-building services and the additional service packages.
Contact Info:
Name: Tony Peacock
Email: Send Email
Organization: LinkDaddy®
Address: 1065 SW 8th St PMB 622, Miami, FL 33130
Phone: +1 305 399 9423
Website: https://linkdaddy.shop

Release ID: 89099720
If you detect any issues, problems, or errors in this press release content, kindly contact error@releasecontact.com to notify us. We will respond and rectify the situation in the next 8 hours.