Financial News
SecureClaw's BDSLCCI: A Cybersecurity Framework for Small and Medium-scale Businesses (SME/SMB)`
May 11, 2023 at 23:06 PM EDT
SecureClaw's one of the key service,"Business Domain Specific Least Cybersecurity Controls Implementation (BDSLCCI)," offers customized cybersecurity controls for each business domain of small and medium companies,decreasing the number of controls to be implemented,the necessary time& the overall implementation cost,increasing the return on cybersecurity implementation investment(ROI)
United States - May 12, 2023 —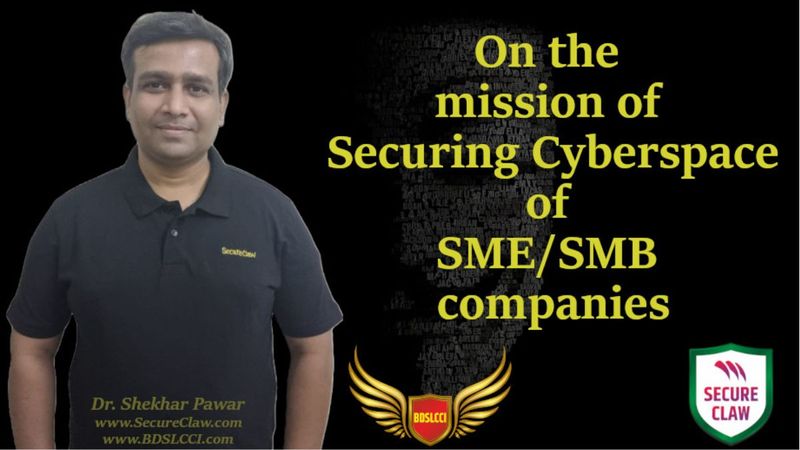 SecureClaw Inc. stands at the forefront of the cybersecurity industry, offering a wide range of audit services, solutions, and products to safeguard organizations against the perils of the digital era. The brainchild of Dr. Shekhar Pawar, a cybersecurity doctorate from SSBM Geneva, Switzerland, SecureClaw has made a name for itself in the world of cybersecurity by providing Virtual CISO (V-CISO), Static Application Security Testing (SAST), Vulnerability Assessment and Penetration Testing (VAPT), and other cutting-edge solutions. With the advent of Industry 4.0 and 5.0, every organization has been forced to digitize their operations, creating a wider attack surface for cybercriminals to exploit. From CNC machines on the shop floor to databases, websites, mobile apps, APIs, the cloud, ERP software, laptops, desktops, servers, cameras, and computerized automation, almost everything in cyberspace is susceptible to threats, as evidenced by the recent spate of cyber-attacks. In these times of heightened vulnerability, SecureClaw Inc. offers comprehensive cybersecurity services to ensure that your organization's valuable assets remain secure and protected.
Dr. Shekhar Pawar conducted an analysis of the various inputs from the top management of SME companies in 19 countries during his doctoral studies on the cybersecurity of the SME segment at SSBM Geneva, Switzerland. The participating SMEs were from Australia, Bangladesh, Cyprus, Ghana, Hong Kong, India, Indonesia, Israel, Malaysia, Nigeria, Norway, Russia, Singapore, South Africa, Sri Lanka, Sweden, the United Arab Emirates, the United Kingdom, and the United States. According to research, there are three main issues faced by the top management of SME as follows: (1) The first issue is that existing leading cybersecurity standards appear very expensive for SMEs, as they demand hundreds of controls be implemented. (2) SMEs do not have enough resources to adequately implement those. (3) More importantly, existing standards provide a common, generic set of cybersecurity controls for all the business domains, where top management can't see relevance to their business priorities and ROI. These problems have caused many SMEs to either not go ahead with the cybersecurity controls implementation or to choose any random controls as their own. It was also found that insider threats, malware attacks, ransomware, denial of service (DoS) attacks, web attacks, phishing attacks, etc. are more common cyber threats that SMEs are facing.
The most recent research paper, "LCCI: A Framework for Least Cybersecurity Controls to be Implemented for Small and Medium Enterprises (SMEs)," published in Elsevier's JJIMEI international journal, explained that one in two SMEs are currently dealing with a cyberattack, which costs an average of more than $2.2 million annually, that 43% of cyberattacks target small businesses, and that 60% of small businesses shut down within six months of a cyberattack. Looking at the research outcome, there is no surprise as to why SMEs are facing various cyber threats.
Dr. Shekhar Pawar has invented a new cybersecurity framework called Business Domain Specific Least Cybersecurity Controls Implementation (BDSLCCI) to address the problems that SMEs encounter as a result of their poor cybersecurity posture. The foundation of this framework is based on fundamental cybersecurity principles. Depending on the needs of the SME's business domain, a set of cybersecurity controls may be identified. It implies that SMEs engaged in e-commerce must put in place a specific set of controls, SMEs working in manufacturing must put in place a unique set of cybersecurity controls, and so on. The BDSLCCI journey for SME is divided into three phases, Levels 1 through 3. It assists the top management of small and medium-sized companies in making incremental investments while providing immediate security for their mission-critical assets.
BDSLCCI.com is an AI and machine learning-based web platform that was created by SecureClaw Inc., a new business venture of Dr. Shekhar Pawar. By visiting a web portal, any SME representative can sign up and start utilizing its user-friendly features. Only the cybersecurity controls necessary for that SME's business domain is pulled by the software algorithm when a representative logs into the BDSLCCI web portal. The company can implement the recommended controls, and then, after uploading evidence, it can go for online validation of the implemented controls for a specific stage achieved. The BDSLCCI auditors will evaluate the evidence. A certificate and transcript for the achieved BDSLCCI level will be awarded to an SME if it meets the requirements. Additional benefits include free sets of policy documents, free posters promoting cybersecurity awareness, a free email notification service for cyber threat alerts, etc. SecureClaw is also developing a few additional tools to help companies automate a few areas of cybersecurity.
BDSLCCI will broaden its global network of accredited auditors and affiliate organizations, which will provide SMEs with consultation or other support as they successfully adopt BDSLCCI.
Registration Link: https://BDSLCCI.com
Contact Info:
Name: Dr. Shekhar Pawar
Email: Send Email
Organization: secureclaw
Phone: +1 (218) 718-2121
Website: https://secureclaw.com/

Release ID: 89097362
If you detect any issues, problems, or errors in this press release content, kindly contact error@releasecontact.com to notify us. We will respond and rectify the situation in the next 8 hours.