Financial News
The Turnaround in United Natural Foods is Ripening
July 18, 2023 at 07:00 AM EDT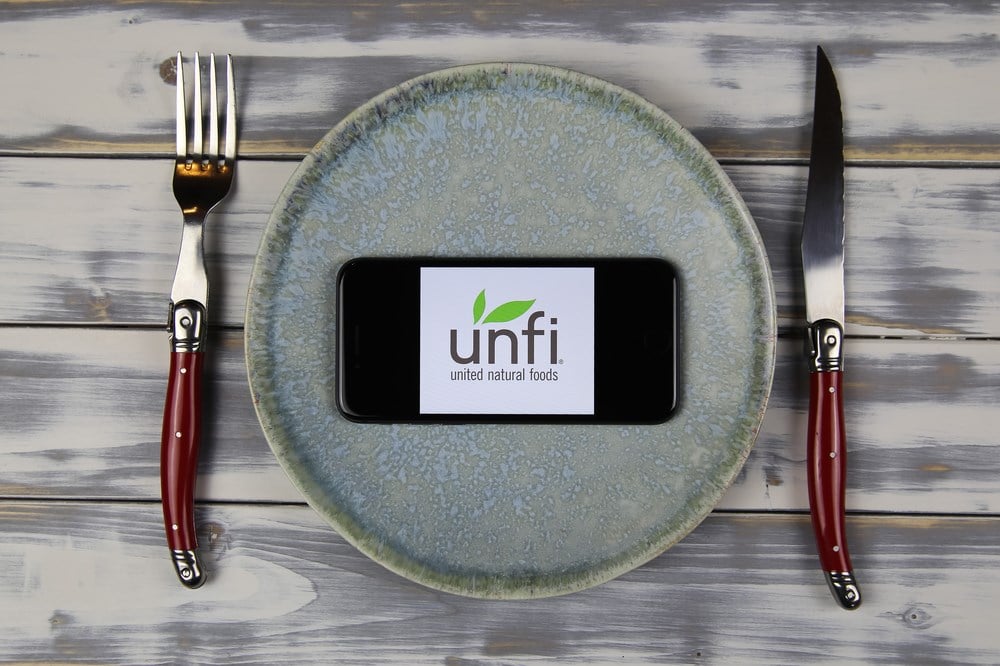 The June CPI report revealed that core inflation had fallen to 4.8% from 5.3% in May 2023, which the market interpreted as great news sending stocks soaring the following days. Inflation deceleration has taken many food companies by surprise. Food distributors and producers are getting hit hard on margin compression as margins shrink just as fast as they expanded on rising inflation.
Despite rising revenues, organic foods and grocery products distributor United Natural Foods (NASDAQ: UNFI) is experiencing margin shrinkage. Its stock is trading down 47%, severely underperforming the S&P 500 gain of 18% year-to-date (YTD). The company has announced a turnaround plan to improve operational efficiency to combat the falling EBITDA and margin shrinkage. 
What Goes Up, Comes Crashing Down
The company identified many areas for improvement. In 2018, United Naturals purchased SuperValu for $3 billion. Critics say United Natural overstepped its footprint by acquiring a grocery store chain already experiencing declines.
However, the 2020 pandemic surged it's top and bottom lines sending shares up to $57.89 in December 2021. The massive EBITDA gains of $770 million in 2021 grew as high as $829 million in 2022.
Sharply rising inflation helped expand its margins dramatically. United Natural believed its growth would continue raising its EBITDA estimates to $865 million in fiscal 2023. That all crashed when the company lowered guidance for back-to-back quarters, dropping its full-year 2023 EPS to $1.80 to $2.30, down huge from its prior rosy guidance of $3.05 to $3.90.  
Automation and Robotics
The SuperValu acquisition made logistics a nightmare creating an even more complex infrastructure. The company had major inventory slippage and lagging data due to the fragmented nature of its supply chain and inventory management issues. This resulted in management being completely and embarrassingly blindsided by its earnings shortfalls, undermining its outlook and credibility.
The turnaround plan includes bolstering its automation and digitalization for logistics, distribution, inventory and supply chain management processes. They are implementing this with the help of  Symbotic Inc. (NASDAQ: SYM), a leading robotics warehouse automation solutions provider.
Swing and a Miss Again
On June 7, 2023, United Natural released its fiscal third-quarter 2023 results for April 2023. The Company reported a profit of 54 cents per share (down from $1.10 the prior year!), missing consensus analyst estimates of 65 cents by 11 cents. Revenues rose 3.7% year-over-year (YoY) to $7.51 billion, matching consensus analyst estimates.
Mixed Guidance
United Natural guided full-year fiscal 2023 EPS of $1.80 to $2.30 versus $3.31 consensus analyst estimates. This was a shockingly large drop from earlier guidance of $3.05 to $3.90. However, it still sees revenue growth between $30.1 billion and $30.5 billion compared to analyst estimates of $30.37 billion.
Inheriting Complexity with SuperValu Acquisition
United Natural Foods CEO Sandy Douglas admitted and addressed how United Natural inherited a complex infrastructure with its SuperValu acquisition. SuperValu had a long history of acquisitions creating numerous information silos resulting in limited visibility. She commented how the complex infrastructure "… limits our ability to understand the recent volatility within our business real-time."
Digitizing its Operating Model
CEO Douglas did underscore the need to accelerate efforts for a "… more efficient, dynamic, and digital-oriented operation model." He also expressed "deep disappointment" in its Q3 2023 results. Its natural business had weaker sales and margin dollars due to wholesale commodity inflation's unexpected and significant slowing.
This resulted in high shrinkage and operational improvement costs. The company expects its actions to add more than $100 million in annual operational benefits to offset margin challenges in fiscal 2024.
Turnaround Concentration
The technological improvement in its distribution center efficiencies will enable the company to discontinue underperforming products to improve core margins. It will also look to exit some of its commercial contracts, which are underperforming post-pandemic. CEO Douglas summed up the four focus areas as supply chain performance and efficiency, redesigning work processes with suppliers and customers to accelerate profitable growth, upgrading the digital experience and modernizing its technology.
A Deep Value Play
United Natural Foods competes with other food distributors but trades at a 30% to 50% discount to peers at just 9.46X forward earnings. Major distributor Sysco Inc. (NYSE: SYY) shares trade at 18.9X forward earnings. Performance Food Group Co. (NYSE: PFGC) trades at 15.5X forward earnings. U.S. Foods Holding Co. (NYSE: USFD) trades at 17.94X forward earnings.
United Natural Foods analyst ratings and price targets are at MarketBeat.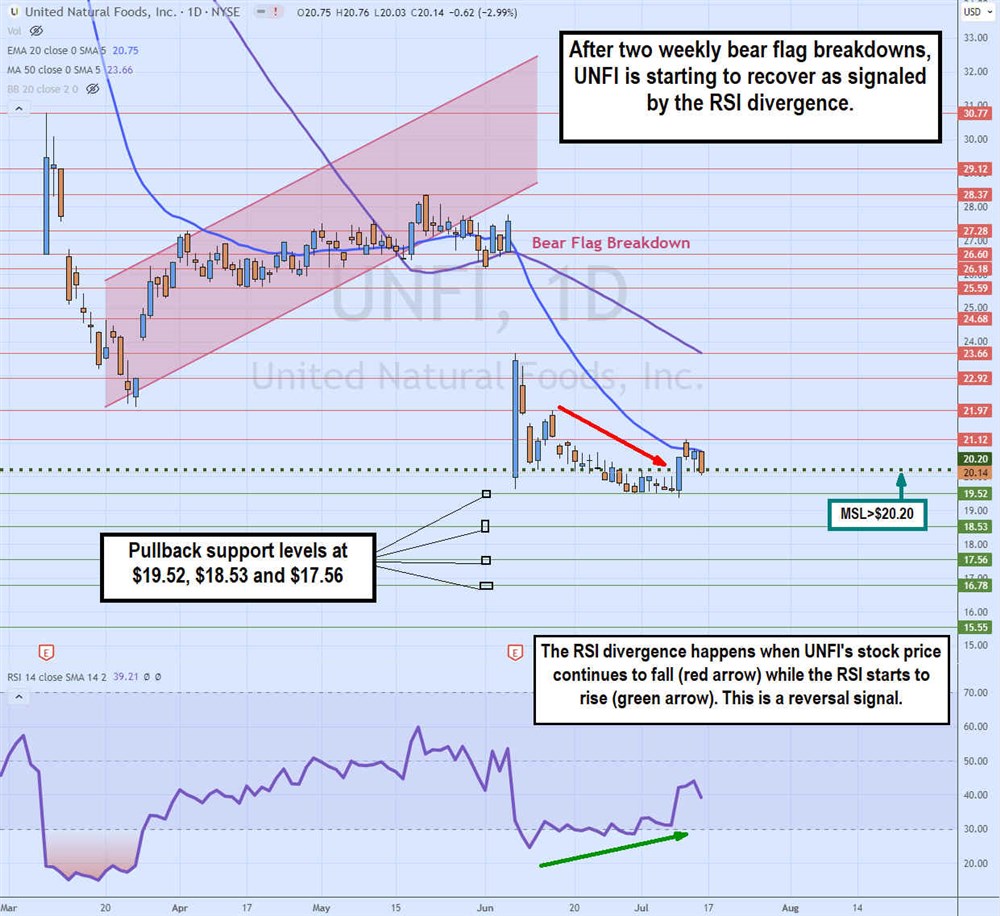 Learn to identify and analyze stock chart patterns on MarketBeat.
Daily RSI Divergence Buy Signal
UNFI stock has been a heartbreaker getting crushed on two back-to-back weekly bear flags. However, the most recent collapse after its Q3 2023 earnings may finally be bottoming out as indicated by the daily relative strength index (RSI) divergence signal. RSI divergence forms when a stock price continues to fall while the RSI oscillator stops falling and starts to rise as indicated in the UNFI candlestick chart. When this occurs, it's usually considered a buy signal indicating that selling pressure is easing but buying demand is growing. The daily market structure low (MSL) breakout through the $20.20 trigger initially capped at the falling weekly 20-period exponential moving average (EMA) at $20.75 with the downtrending daily 50-period MA also falling at $23.66. Pullback support levels are at $19.52 swing low, $18.53 and $17.56.