Financial News
Generac Powers Up as Summer Temperatures Rise
July 13, 2023 at 09:12 AM EDT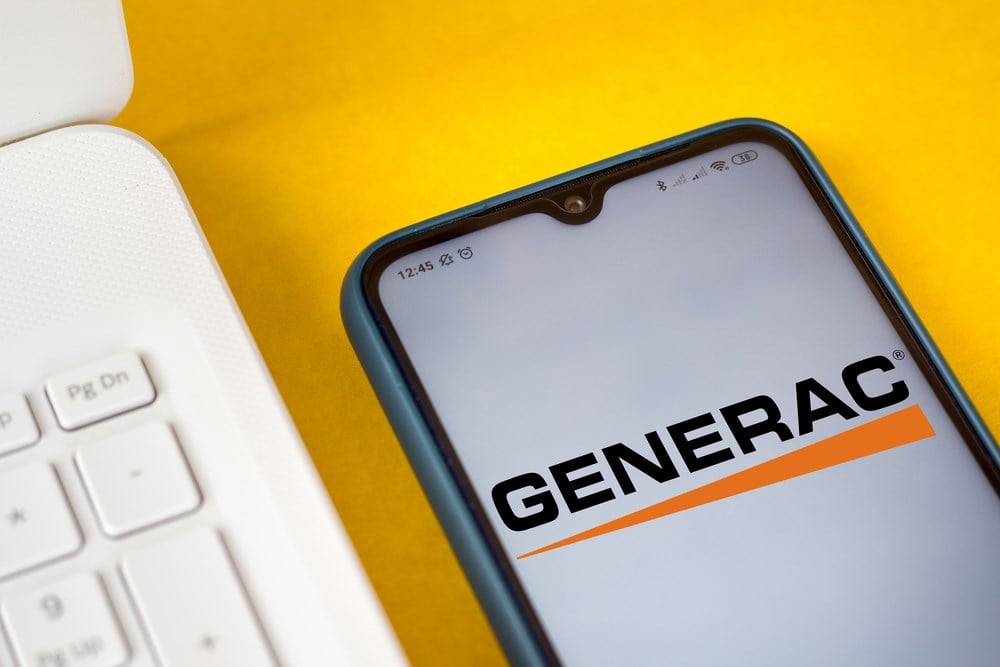 As temperatures reach 117 degrees Fahrenheit in Death Valley, California, Generac Holdings Inc. (NYSE: GNRC) is springing to life.
A life cross event is unfolding on the power generation equipment maker's stock chart, a classic technical pattern that could mark the start of a long-term uptrend. The bullish 50-day/200-day crossover comes amid sweltering temperatures across much of the country. 
Two weeks removed from a Texas heat wave that drove hot demand for backup generators, other parts of the U.S. are experiencing a similar melt. Arizona temperatures have topped 110 degrees every day this month. Parts of Southern California have been well over 100 degrees, with nearly 20,000 of the state's residents losing power on Wednesday.
Whether record-breaking heat or crippling snowstorms, Generac is uniquely linked to extreme weather events. Consumers and businesses alike scramble to secure potentially life- and business-saving power equipment in preparation for the worst. A need to keep air conditioners, freezers and heaters running drives increased demand for Generac products. 
Summer 2023's blistering start, while bad news for the environment, has helped Generac reach a nine-month high. Since June 21st (the official start of summer), the stock is up 16% — and the seventh-best S&P 500 performer. 
While extreme July temps have put the spotlight on Generac, the company's move off its 2023 lows has been months in the making. Better-than-expected first-quarter financial results and a brighter full-year outlook have investors scooping the former $500 stock at a deep discount. 
Wall Street, however, has mixed feelings.
How Have Analysts Reacted to Generac's Rally?
Last week, Bank of America poured cold water on Generac's run, saying recent power outage activity has been within historical levels. The firm suggested that the media has blown the catalyst out of proportion, creating a disconnect between the stock and its fundamentals. With home standby (HSB) generator inventories elevated, it argues that dealers are unlikely to do a big re-stock regardless of the potential weather-related demand. Bank of America kept its Underperform rating and cut its price target to $90. 
Argus Research disagrees. The firm upgraded Generac to Buy this week with no mention of the recent weather boost. It believes that the inventory picture is improving as retail partners clear excess residential generators ahead of the key hurricane season. The analyst there also cited strong growth in Generac's industrial segment and cost-cutting measures as reasons to expect better financial performances.
Much of the attention has been on weather-driven demand, but Generac's business goes beyond generators. The company also sells energy storage systems and various power products to residential and commercial customers. Climate change is just part of a list of long-term growth drivers that includes global 5G deployment, manufacturing automation and advancements in battery technologies.
Generac is also expanding its presence in the electric vehicle (EV) charging space. Last month, it joined forces with Alectra Utilities to support a managed EV charging project designed to understand better the impact of EV charging on the power grid. Over time, Generac is positioned to benefit from the increasing demand for grid management services as the world's aging infrastructure gets a major overhaul. In May 2023, Spanish renewable energy leader Iberdrola tapped Generac's Concerto platform to stabilize its virtual power plant (VPP) initiative. 
Are Generac Shares Undervalued?
Generac is forecast to return to profit growth next year as inventory issues subside, cost-cutting measures take effect and macroeconomic conditions become more sales-friendly. The consensus estimate for 2024 earnings per share (EPS) gives the company an 18x forward P/E ratio. This represents a greater than 50% discount to the stock's five-year historical average P/E.
The industrial also looks inexpensive when stacked up against its peers. Based on projected 2024 EPS, mid-cap electrical equipment makers Vicor (37x) and Shoals Technologies (25x) are trading at much higher valuations.  
Four years ago, when Generac last recorded a life cross event, the stock began its incredible 10x run from approximately $50 to $500. If history repeats, the sea level may not be the only thing rising over the next few years.