Financial News
These Bitcoin Stocks Have the Most Upside
March 27, 2023 at 06:30 AM EDT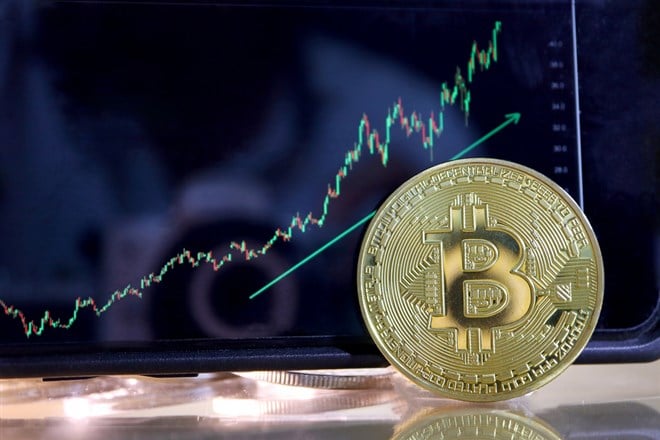 The bitcoin (CRYPTO: BTC) rally continues, although bulls haven't quite managed to sustain the breach of the $28,000 psychological level just yet.
Buying and holding bitcoin long-term might be a better option for most investors due to the added risks of investing in both stocks and equities in one investment.
Still, for those with a high risk tolerance, there are some good bitcoin and blockchain stocks worth considering adding to your portfolio.
Hive
Hive Blockchain Technologies (NASDAQ: HIVE) might be one of the better picks for investors, seen through the lens that most others are losing money hand over fist.
The brand's net income is around $80 million, and carries quite a favorable opinion on Wall Street, with two buy ratings from analysts. It also has an estimated upside of 97.92% at the time of writing.
Also, unlike its peer companies, Hive is not straddled with debt and leverage. Its debt-to-equity ratio is low at 0.19, and has a low ratio of current liabilities to current assets. An equal split of institutional and insiders own shares of Hive at around a 9% ownership split each.
The company is a large-scale mining business, and as such, will undoubtedly be enjoying gains from the current rally. 
Analysts were also bullish on the news that Hive will be utilizing its fleet of GPU miners in addition to ASICs. This will allow the company to tap into coins which are ASIC-resistant, thereby unlocking additional revenue and opportunities in the altcoin market with lower mining difficulty levels such as bitcoin.
Canaan
Canaan (NASDAQ: CAN) is another profitable bitcoin stock. But this time, Canaan also makes the picks and shovels that allow miners like Hive to do business. Canaan produces integrated bitcoin mining circuits and provides assembly services. It also leases computing hashrate to other firms as well as mines bitcoin on its own. The company is also located in China.
Canaan is profitable, recording $95.44 million in net income as well as recording positive values for important efficiency ratios. The company's return on equity (ROE) sits at 15.36%, which is the only company to meaningfully do so in its peer universe.
And although only three analysts have rated the stock, it also has the biggest projected upside at an impressive 177.78%. Another factor that might make it worthwhile is that it's also relatively undervalued on a price-to-sales (P/S) ratio compared with its peers, which stands at just 0.75, while most other companies hover around the 5-6 mark despite bleeding cash flow.
The company recorded around 757 bitcoin on its balance sheet in its FY22 results, and also said it would buy back up to $100 million of its shares outstanding.
International exposure
Since Beijing outlawed bitcoin mining and ownership in the country, the majority of bitcoin's mining operations and hashrate has since moved to the United States. Still, many crypto companies and projects are based in East Asia, which may give investors additional geographical diversification when buying shares in these companies.
China is an emerging market as well as an international one, which could have dual benefits. Most American investors have little to no international equity exposure, and companies like Canaan could help people achieve this.
Owning shares in overseas companies means a portfolio is not at the mercy of one country's monetary policy or other macro forces, and the developing world is where most of the world's economic growth is set to come from in the next decade. The net result is that at the end of the 30 years, the volatility of a portfolio may be reduced since returns are less correlated with the US market.