Financial News
Is Credit Suisse On The Brink of a Collapse?
March 16, 2023 at 05:50 AM EDT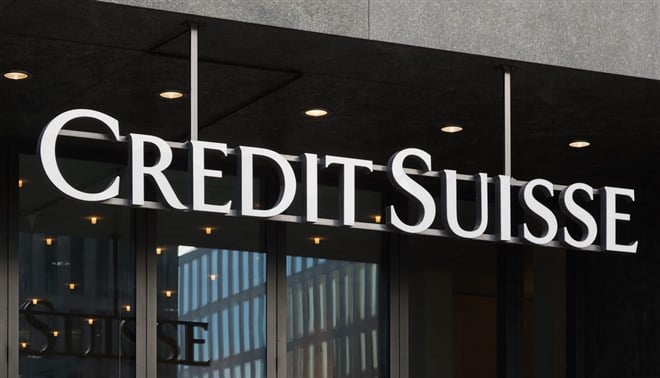 Swiss banking giant Credit Suisse (NYSE: CS) nosedived to all-time lows Wednesday, dropping as much as 25% in early trading. The bank's largest shareholder, Saudi National Bank, announced it won't inject any more capital into the troubled bank. Investors are now reevaluating Credit Suisse in the wake of the recent downfalls of Silicon Valley Bank and Signature Bank.
With short-term credit default swaps (CDS), derivatives to insure bonds against default, now costing about 10% of the bond's notional value, it's clear the market is uneasy. In fact, short-term CDS maturities are trading at a premium to their longer-term counterparts, signaling severe market stress.
What Is Happening?
The chairman of Saudi National Bank, Credit Suisse's top shareholder, said it would "absolutely not" invest more into Credit Suisse.
The bank released its annual report just a day earlier, which was delayed due to questions from the SEC.
Bank contagion looks to be spreading to Europe. European bank stocks are fragile. Credit Suisse is down 16.5%, UBS is down 7.5%, Deutsche Bank is down 8.5%, and BNP Paribas is down 10%.
European Central Bank officials are reportedly inquiring with lenders about exposure to Credit Suisse, according to the WSJ.
The Financial Times is reporting that Credit Suisse is reaching out to the Swiss National Bank, Switzerland's central bank, for a public show of support.
The US Treasury is reviewing US bank exposure to Credit Suisse
Swiss Government and Credit Suisse are discussing how to stabilize the bank
BNP Paribas is cutting exposure to Credit Suisse
How Did Credit Suisse Get Here?
It's been a rough few years for Credit Suisse. They've been hit hard by the meltdown of supply chain financier Greensill, the $4.7 billion Achaegos fiasco, and numerous scandals. The bank seemingly found itself on the wrong side of nearly every blowup and banking scandal. Basically, everything that could go wrong did.
As a result, clients and the public are losing faith, leading to $120 billion, or 8% of assets, in outflows from the bank in Q4 2022 alone. Worse, the outflows are continuing, despite at a slower rate, the company disclosed in its annual report.
The company is also burning cash at a tremendous rate. Take a look at Credit Suisse's waterfall losses over the last two years:

Is Credit Suisse at Risk of a Collapse?
Customer confidence is crucial for banks. In the wake of Silicon Valley Bank and Signature Bank, Credit Suisse's massive outflows are raising eyebrows.
The textbook financial theory would say Credit Suisse is financially strong, as evidenced by its capital ratios, which the company boasted are strong relative to peers  in its recent investor presentation: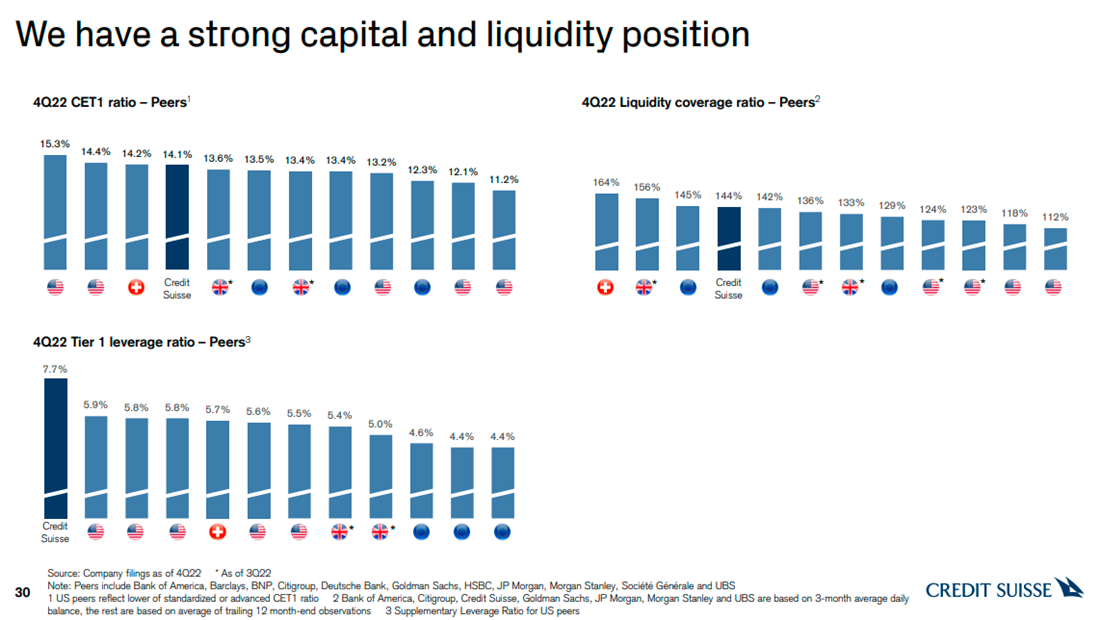 But it's worth remembering that Lehman Brothers had a tier 1 capital ratio 3 times that of the regulatory minimum before failing.
The combination of questionable asset quality, negative cash flow, and deposit outflows seem to be of greater concern to investors. Because big bank balance sheets are so opaque, it's difficult to judge the assets supporting these seemingly-healthy capital ratios.
The bond market has an opinion, however. They don't seem so optimistic.
WSJ reported Wednesday that Credit Suisse's "bail-in" bonds, which are wiped out if the bank's capital falls below a certain threshold, are trading at 31 cents on the dollar, compared to 90 cents earlier this month.
Likewise, Credit Suisse credit default swaps, derivatives used to insure bonds against defaults, are trading 18 times as expensive as UBS (NYSE: UBS) and 9 times richer than Deutsche Bank (NYSE: DB), according to Bloomberg.
What If Credit Suisse Survives?
Even though markets are pricing an elevated risk of Credit Suisse collapsing, market probabilities still favor the bank surviving this crisis, at least for now. Assuming this occurs, what happens to Credit Suisse?
Even before trouble started brewing at the bank, management planned to spin off the investment banking division into the old moniker of First Boston. The bank wanted to instead focus most of its efforts on its wealth management business, which is far more stable and less at risk of catastrophic losses like the Archaegos and Greensill deals.
According to Bloomberg, the Swiss Authorities are currently working with Credit Suisse to stabilize the bank, with spin-offs of divisions and a sale to UBS on the table. The company was already amid a turnaround plan, and this might accelerate it, whether they like it or not.
As things stand now, Credit Suisse trades at roughly 0.2 times its tangible book value, whereas peers tend to trade closer to 1x, as its European peer UBS does. This is another demonstration of how skeptical markets are of banks right now.
New information hits the news every hour, so watch media outlets and Credit Suisse's price action to track new developments.
Late Wednesday, The Swiss National Bank said that Credit Suisse is currently well-capitalized and that the central bank will provide additional liquidity if necessary. Credit Suisse announced it will be borrowing up to 50 billion Swiss francs ($53.68 billion) from the Swiss National Bank under a covered loan facility and a short-term liquidity facility
Bottom Line
Credit Suisse's future hangs in the balance and many questions remain unanswered. Following the failure of Silicon Valley Bank and Signature Bank, the market is looking for any excuse to dump bank stocks, and Credit Suisse just gave it one. However, the moves in the bond market demonstrate the true risk of the situation and the potential for a full-blown banking crisis to occur.