Financial News
Green Monstah Firearms, LLC, a Gun Shop in Martinsburg, WV, Boasts an Extensive Inventory
March 30, 2023 at 11:30 AM EDT
Martinsburg, WV: Since opening its doors in Martinsburg, Green Monstah Firearms, LLC has been a great place for gun enthusiasts of all experience levels to buy and have their firearms serviced. The gun shop has an extensive inventory of everything one may be looking for as a beginner or a pro. For instance, they have a large selection of AR and Glock parts, accessories, targets and stands, optics, and ammo. 
Green Monstah Firearms, LLC also sells a wide range of handguns, including Glock handguns, SIG Sauer, and Howa. Some of the popular picks for most buyers are the Glock (45 9mm and G47 9mm) and Howa Centurion CP9. In addition to their quality construction and ergonomic design, these handguns have impressive magazine capacity and aftermarket support. 
The gun shop Martinsburg WV also sells rifles for users interested in a firearm with a longer range, customizable features, accuracy, and power. For clients interested in a heavy-duty, durable, and affordable carry, the Century Arms International VSKA Tactical (chambered in 7.62X39mm) is an ideal buy. Additionally, the shop offers other rifles priced competitively, compatible with numerous aftermarket parts, and built to last.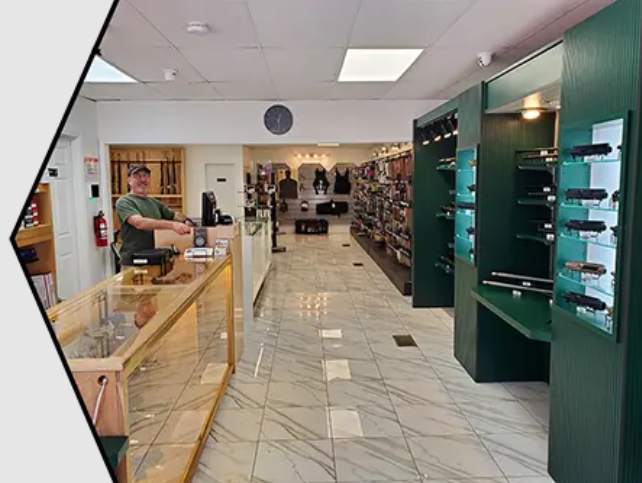 Clients planning to buy shotguns for their versatility, speed, power, and intimidation factor (in self-defense cases) can also visit the shop. One of the popular options available is Mossberg 590S (12 Gauge) shotgun - known for its durability, reliability, and 6-shot capacity. Alternatively, clients can check American Tactical Imports Scout SGA 20 Gauge shotgun or Sauer/Blaser USA SL-5 12 Gauge shotgun. Both are explicitly crafted for sports shooting and hunting purposes.
In addition, the store has tens of shotguns with different features such as gauges, types of actions,  barrel length, capacity, and choke configurations. Depending on buyers' preference, there are various options, including Winchester SXP (12 Gauge) shotgun, Maverick Arms 88 12 Gauge, and Winchester SXP (20 Gauge). 
The shop also buys guns. To give the client the best deal, the staff inspects the firearm and evaluates the current market prices and demands. If the client is satisfied with the offer, the payment is made immediately via a check.
The shopping experience with Green Monstah Firearms, LLC is unmatched. Buyers can either buy online or visit the store. At the shop, they get assistance from experts, can interact with other gun enthusiasts, and the place is pet and family-friendly. 
When speaking about the shop, one client noted, "One of the best gun shopping experiences I've ever had. The store is a micro center for gun parts. An excellent variety of guns, plenty of ammo. They support military and LEO personnel. Great customer service and best prices in the area. Highly recommended!!!" 
Green Monstah Firearms, LLC is located at 1528 Winchester Ave, Martinsburg, WV, 25405, US. Gun enthusiasts interested in buying accessories, ammunition, or firearms can contact the shop at +13048164811. Visit the website for more information. 
Media Contact

Company Name
Green Monstah Firearms, LLC
Contact Name
Richalie Demaine
Phone
13048164811
Address
1528 Winchester Ave
City
Martinsburg
State
WV
Postal Code
25405
Country
United States
Website
https://www.greenmonstahfirearms.com/