Financial News
Tijarah Holding to Take Center Stage as a Diamond Sponsor at The European Blockchain Convention – Europe's Largest Blockchain Convention
September 15, 2023 at 16:01 PM EDT
Malaysia, 15th Sep 2023, King NewsWire – Tijarah Holding Ltd. (Tijarah) is delighted to announce its prestigious role as a keynote speaker and diamond sponsor at the European Blockchain Convention 9 (EBC9). EBC9 brings together leading experts in blockchain and visionary leaders and will take place on October 25th and 26th in the vibrant city of Barcelona, Spain. This convention is poised to welcome an impressive 5,000 attendees and serves as the convergence point for industry pioneers and emerging visionaries in the field of blockchain Twitter Link :technology.
This two-day convention offers a prime platform for networking and provides insights into the latest developments in the blockchain, cryptocurrency, and digital asset sectors. Renowned companies such as Fireblocks, Coinbase, Coreum, and Alogrand Foundation are among the distinguished attendees with Tijarah. These companies will be joined by stalwarts from traditional businesses, including Banco Santander, Deloitte, Fidelity Investments, and Volkswagen Group.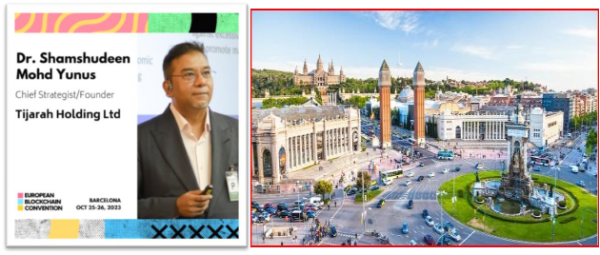 This year's event promises a diverse array of topics, including discussions on legal challenges, Central Bank Digital Currencies (CBDCs), privacy, cryptocurrency institutionalization, Decentralized Finance (DeFi), sustainability, tokenization, the ascendancy of Artificial Intelligence (AI), and Sharia compliant blockchain technology. The agenda also features a hackathon, "Ask Me Anything" sessions, workshops, 1-on-1 meeting space, and a sprawling 3,000m2 exhibition area including the prestigious EBC Start-up Awards.
Tijarah's dual role as a keynote speaker and diamond sponsor at EBC9 marks a significant milestone in the company's blockchain journey, illuminating Malaysia's capacity for world-leading innovation and firmly establishing MaalChain as a global blockchain technology leader. This robust engagement underscores Tijarah's international recognition as a pioneering force in the blockchain industry. EBC9 participants can eagerly anticipate a keynote presentation by Dr. Shamshudeen Bin Mohd Yunus, Chief Strategist, and founder of MaalChain, who will delve into the MaalChain ecosystem and its groundbreaking features.
MaalChain, as a Layer-2 EVM blockchain, integrates the pioneering Concept of Identity, enabling private distributed ledger technologies (DLTs) to seamlessly operate within a public DLT blockchain, effectively functioning as a hybrid blockchain. This innovative approach equips MaalChain to effectively address critical challenges, including trust, security, and regulatory compliance, making it an ideal solution for extensive and diverse organizations, both government and private. Expectations are soaring for the MaalChain ecosystem, especially with the imminent signing of a strategic collaborative agreement in the next few days, expected to drive rapid adoption by 10 million users, thereby establishing one of the blockchain industry's fastest adoption rates.
Visitors to EBC9 can find Tijarah Holding at booth number 213, strategically located at the heart of the event near the main entrance. Additionally, Tijarah will play a prominent role in the AMA session, securing a seat on the distinguished panel. Attendees can look forward to engaging discussions, innovative ideas, and inspiration as they explore the boundless possibilities of the Maal Ecosystem, encompassing RAMZ MarketCap, RAMZ Swap, RAMZ Launchpad and Pansea (NFT marketplace) – all meticulously designed to adhere to ethical and Shariah-compliant principles within the blockchain technology realm.

About European Blockchain Convention
For six years, the European Blockchain Convention (EBC) has been at the forefront of fostering and advancing the European blockchain ecosystem. Since its inaugural conference in 2018, EBC has steadfastly convened thousands of attendees, hosting renowned speakers from blockchain technology and associated industries. The event consistently highlights the most innovative startups in the blockchain and cryptocurrency sphere and featuring them as keynote speakers. This annual gathering brings together a diverse global audience, including founders, investors, regulators, developers, corporations, and more, providing an exceptional platform for education, inspiration, and networking
Linked available:
Twiiter  : https://twitter.com/EBlockchainCon/status/1701585102210257376?s=20
Maal Website: www.maalblockchain.com
EBC  : www.eblockchainconvention.com
Linkedin : https://www.linkedin.com/posts/european-blockchain-convention_blockchainebc9activity7107335559857025024ZVQB?utm_source=li_share&utm_content=feedcontent&ut m_medium=g_dt_web&utm_campaign=copy
About Tijarah Holding Ltd.
Tijarah Holding Ltd, headquartered in Labuan, Malaysia, is a renowned blockchain developer at the forefront of cutting-edge technology, with notable development of the Maal blockchain. It is an accredited Islamic Digital Asset Service Provider (IDASP). MaalChain stands out as a globally recognized Shariah-compliant blockchain. MaalChain incorporates the Al-Muttaqin AI Algorithm for consensus and introduces the unique "Concept of Identity." This revolutionary feature enables private distributed ledger technologies (DLTs) to seamlessly operate within a public DLT blockchain, effectively operating as a hybrid blockchain ecosystem.
Within the Maal ecosystem are RAMZ MarketCap, RAMZ Swap, RAMZ Launchpad, and Pansea (NFT marketplace). Tijarah is steadfastly committed to driving innovation within the blockchain industry, providing educational resources, and continuously adapting to meet the dynamic needs of its global clientele and forming strategic collaborations and partnerships (www.tijarahholding.com).
For media inquiries, please contact:
Website: www.tijarahholding.com
Twitter: https://twitter.com/EBlockchainCon?t=6KrO__vHHpJXkuR1iclmSw&s=09
Facebook: https://www.facebook.com/Tijarahholding?mibextid=ZbWKwL
Instagram: https://instagram.com/tijarahholding_official?igshid=NTc4MTIwNjQ2YQ==
Youtube: https://youtube.com/@maalchain_official?si=YDSdubqSJY5zHoAY
Media Contact
Organization: Tijarah Holding Ltd.
Contact Person: Tijarah Holding Ltd.
Website: http://www.tijarahholding.com
Email: info@tijarahholding.com
Country: Malaysia
Release Id: 1509236404
The post Tijarah Holding to Take Center Stage as a Diamond Sponsor at The European Blockchain Convention – Europe's Largest Blockchain Convention appeared first on King NewsWire. It is provided by a third-party content provider. King Newswire makes no warranties or representations in connection with it.

Information contained on this page is provided by an independent third-party content provider. eTrendystock make no warranties or representations in connection therewith. If you are affiliated with this page and would like it removed please contact contact@etrendystock.com