Financial News
Christian Care Ministry/Medi-Share Reflects on Inspiring Connections and Uniting Voices at the National Religious Broadcasters Annual Conference
June 02, 2023 at 15:04 PM EDT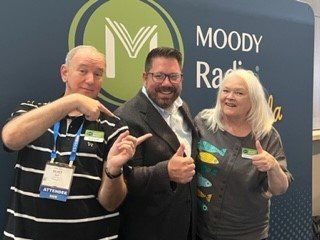 MELBOURNE, Fla. — Christian Care Ministry/Medi-Share, the nation's leading health care sharing ministry, is proud to have been part of the recent National Religious Broadcasters (NRB) Annual Conference held in Orlando, Fla. The conference provided an extraordinary platform for faith-based organizations to come together and amplify their voices, fostering powerful connections that will undoubtedly shape our shared future.  
With a theme centered around "Building Bridges, Inspiring Hope," the NRB Annual Conference showcased the spirit of collaboration, innovation, and unwavering dedication that defines the religious broadcasting community.  
Christian radio, TV, film, church media, and digital media experts know NRB as the premier conference for Christian Communicators. The opening session included Abraham Hamilton, lll and Franklin Graham. Several top speakers presented throughout the conference, Radio stations recorded live throughout the event, and the exhibit hall was packed with Christian businesses, missionaries, and authors.  
While at NRB, Christian Care Ministry's CEO Brandon Harvath was a guest on Moody Radio's Kurt & Kate morning show, he was interviewed by Jesus Christ's CEOs, and was a guest for a Town Hall segment with Salem Media. Christian Care Ministry's V.P. of Communications, Evelio Silvera was a guest on Moody Radio's Karl & Crew show where he was able to talk about Medi-Share and the impact it has made on its members. 
"At Medi-Share, we firmly believe in the power of unity and collaboration", says Christian Care Ministry V.P. Of Communications, Evelio Silvera. "The NRB Annual Conference perfectly encapsulated these values by providing a platform for organizations like ours to connect with fellow industry leaders, share insights, and discuss how we can collectively serve our communities better. The experience has undoubtedly enriched our perspective and strengthened our commitment to delivering innovative healthcare solutions rooted in compassion and faith. We are excited to apply the knowledge gained from the NRB Annual Conference to enhance our communication efforts, empower our members, and contribute to the broader mission of uplifting lives through our healthcare sharing ministry."    
Silvera adds, "We extend our heartfelt gratitude to the NRB for organizing this exceptional event. Together, we will continue to build bridges, inspire hope, and create a future where faith and compassion shine brightly."  
#####  
About Christian Care Ministry/Medi-Share  
Christian Care Ministry (CCM), a not-for-profit 501(c)(3) organization, based in Melbourne, FL, operates the Medi-Share program, a Christian health care sharing organization that provides an affordable alternative to health insurance for faith-based consumers. Entering its 30th year of sharing, Medi-Share, serves nearly 400,000 members across America and has earned accreditation from the Independent Healthcare Sharing Accreditation Board. For more information about Christian Care Ministry, visit: https://mychristiancare.org/press.