Financial News
Drug-Free Way To Treat Pediatric IBS And FAP Earns NeurAxis A $14 Price Target ($NRXS)
August 29, 2023 at 05:04 AM EDT

NeurAxis (NYSE-Amer: NRXS) is a low-float, under-the-radar biotech worthy of investors' attention. It has, after all, earned analysts, including the lead at Goldman Smallcap Research, who published a decidedly bullish report modeling for NRXS shares to reach $14.00 over the next six to twelve months. From current levels, that's an over 167% increase. (*Share price of $5.23, 08/25/23, Yahoo! Finance, 1:02 PM EST) 
That report doesn't read as overzealous speculation. Instead, it's supported by compelling insights about what NRXS is doing to change the treatment landscape for specific chronic and debilitating indications, including its currently marketed Percutaneous Electrical Nerve Field Stimulation (PENFS) IB-Stim technology treating pediatric Irritable Bowel Syndrome (IBS) and Functional Abdominal Pain (FAP) in a drug-free way. That difference is more than excellent news for patients; it's potentially transformative for NRXS, from a near-term opportunity to earn a front-line position and seize an over one billion dollar revenue-generating opportunity. 
That's perhaps more likely than not. On a comparative basis to the standard of care, primarily off-label prescription use, NRXS technology is a game-changer for patients. The better news is it's already FDA-cleared and could benefit from its FDA De Novo application, which could lead to additional clearances to treat other debilitating pediatric indications, including chronic nausea, post-concussion, cyclic vomiting syndrome, and chemotherapy-induced nausea in children between the ages of 11-18. 
Best of all, from a patient, investor, and company perspective, NRXS treatment technology is not a wait-and-see proposition. NRXS is already generating revenues from its use. A company update in August highlighted the technology contributing over $8 million in revenues since 2019. While historical performance is a reference, investors focus more on the future, which looks promising in NRXS's case. By replacing off-label prescription use, Goldman forecasts NRXS revenues soaring to $22 million by 2025. Better still, revenues are expected to be met with 88% gross margins, similar to those over the past two years. Thus, whether modeling PPS increases through top-line, bottom-line, or a combination of both, a case for a steepening trajectory for NRXS shares is well-supported.
Supporting The Bullish NRXS Value Proposition
Revenue expectations are a significant jump from current levels. But considering NRXS technology is taking steps toward earning a front-line treatment designation, it's even fair to suggest that the $22 million forecast could end up being conservative. That presumption is supported by NRXS being already positioned to seize the lion's share of an estimated $9 billion total addressable pediatric care market opportunity. Scoring even a portion of that opportunity can be lucrative. For example, treating only 25% of the expected yearly cases - about 200,000 children - presents a roughly one billion dollar revenue-generating opportunity at current reimbursement rates. 
Keep this in mind, too. NeurAxis is on target in its mission, monetizing its assets by addressing critical clinical needs that have gone unmet or under-served. By filling those gaps, NRXS is on a fast track to exploit a clear and broadening commercial pathway by leveraging the potentials inherent to its FDA De Novo clearance. The FDA De Novo clearance can be a massive value driver and contributor to the NRXS appraisal because it's an application that, if granted, establishes a new "device type" along with classification, regulation, necessary controls, and product code. That, in turn, creates a pathway toward earning future expedited approvals by making the device eligible to serve as a predicate for new medical devices through an expedited 510(k) process.
Plenty supports earning those additional clearances and/or approvals, including value inherent to its robust IP portfolio, the over 700 patient reports, and an increasing number of publications supporting NRXS technology as a best-in-class treatment option. Additional tangibles include having at least four major carriers providing payer coverage, with more expected this year. Combining those parts, any company wanting to compete against NRXS may find their prospects challenging or even futile. Thus, instead of spending vast resources trying to develop an effective treatment rival, the better strategy for potential competitors may be to look elsewhere to make money.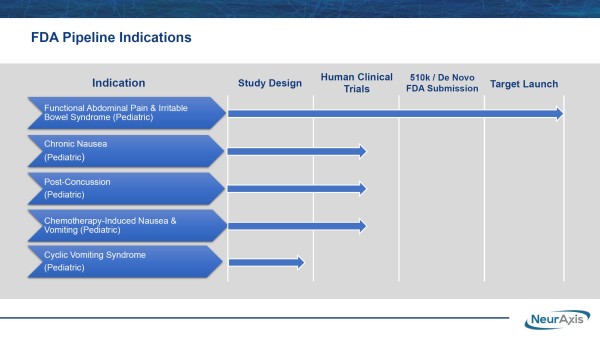 NRXS FDA De Novo Clearance Must Be Appreciated
That includes looking elsewhere from the NRXS pipeline indications that could get expedited marketing approvals through its FDA De Novo application. That designation supports NRXS being an innovator whose work can result in bringing an entirely new treatment method to the market. Its leading position is no coincidence. It results from extensive work developing its PENFS technology, with the IP inherent to that strengthening NRXS's competitive advantage and distance. Remember, NRXS doesn't want to treat with chemicals; instead, they are pioneering unique neuromodulation work that provides access to the central nervous system. Once its target is reached, it stimulates and ultimately induces a change in brain pathways and connectivity.
For patients and NRXS, this disruptive technology is more than a treatment game-changer; it can generate a financial windfall for the company. In other words, while patients can benefit from an improved and safer standard of care, NRXS and its investors also stand to gain. Remember that NRXS's IB-Stim™ and PENFS technology is already generating revenues, which are expected to increase significantly through accelerating care-provider adoption to treat pediatric cases of FAP and IBS. That adoption is warranted. IB-Stim provides a non-drug and non-surgical approach to treatment that can be used in outpatient settings, reducing pain through neuromodulation to branches of cranial nerves. Better yet, the NRXS approach to treatment can generate favorable treatment results in roughly three weeks. Treatment duration and efficacy aren't the only advantages. 
In addition to facilitating quick results, care providers appreciate PENFS mitigating the often enduring side effects of drugs being prescribed off-label. Those can be severe, including suicidal ideation, depression, and weight gain. In stark contrast, NeurAxis notes PENFS treatment side effects as irritation at the treatment site. Another critical distinction is that PENFS treatment is targeted via the brain-gut axis, a significant departure from conventional localized and peripheral care, which, as noted, often comes with severe unintended consequences.
Validation For NRXS Technology
NRXS wants to help end that dangerous off-label prescribing practice. And plenty of research and data support they can, including four current publications, data from over 700 published patients, six different study types, thirteen children's hospital studies, and an expected fourteen publications documenting the positive contributions from NRXS innovation and technology by the end of 2023. Additionally, research and data highlight compelling advantages of IB-Stim compared to other treatments. While there's a long list of benefits, it's what IB-Stim doesn't do that is causing its rapid adoption.
Unlike commonly prescribed off-label treatments, IB-Stim doesn't foster suicidal ideation, dementia, abdominal pain, or allergic reactions. Neither does it induce vomiting or diarrhea, documented symptoms associated with current drugs treating FAP and/or IBS, including some from Mallinckrodt (NYSE-Amer: MNK), Johnson & Johnson (NYSE: JNJ), AbbVie (NYSE: ABBV), and Pfizer (NYSE: PFE). Incidentally, NRXS doesn't intend to rest on targeting just its current billion-dollar opportunity. In addition to treating pediatric FAP and IBS, they are advancing, as noted, a pipeline to treat chronic nausea, post-concussion, cyclic vomiting syndrome, and chemotherapy-induced nausea in children. Those are clearing human clinical design and moving toward human clinical trials. That mission is in progress. 
NRXS is advancing its prospective, randomized, double-blind study for post-concussion syndrome at Children's Hospital of Orange County. The company noted that additional site(s) could be added to strengthen the research data and expedite NRXS targeting a $1.9 billion market opportunity from the estimated 400,000 patients diagnosed annually. Like its other products, this actively-enrolling study targets an unmet medical need, positioning NRXS, after approvals, to capture a significant portion of the opportunity. It can also lead to NRXS scoring another front-line therapy designation.
NeurAxis Has An Established Infrastructure 
Adding further to the value proposition, NRXS has an infrastructure to accelerate its growth. In addition to compelling assets and technology, they have a substantial physical presence, including 69,000 square feet of space for its offices, factory, warehouse, and environmentally controlled needs. That's ample space for controlled and monitored manufacturing capacity, is sufficient in size for additional NRXS needs, and, most importantly, is FDA-registered, ISO-certified, and ITAR-registered to meet industry and management standards and practices.
Moreover, it shows that NRXS has assembled the pieces to deliver better treatments to patients without diluting asset ownership. Eight issued and eighteen pending patents covering devices and methods further strengthen that stand-alone ability. IP protections are valid through 2039 without adding to existing claims that enhance patent longevity. More value accrues from NRXS expecting many or all of its patents to be protected internationally. That enables NRXS to operate freely and negotiate from a position of strength globally if they become interested in partnerships and licensing deals. 
In no uncertain terms, the NeurAxis story is an excellent one. For investors, NRXS presents low-float, low-cost exposure to a company ideally positioned to treat large pediatric indications more effectively. For patients, it's no drugs, no surgery - just a better, safer, and more efficient treatment using neuromodulation to provide the intended results. The sum of those, combined with results expected from an ambitious strategy directed by an industry-leading Medical Advisory Board, supports the $14 price target earned from GSCR. In fact, factoring in the tangibles and inherent near-term potentials, it's justified.
Disclaimers: Trendingsmallcaps.com (TSM) is responsible for the production and distribution of this content. TSM is not operated by a licensed broker, a dealer, or a registered investment adviser. It should be expressly understood that under no circumstances does any information published herein represent a recommendation to buy or sell a security. Our reports/releases are a commercial advertisement and are for general information purposes ONLY. We are engaged in the business of marketing and advertising companies for monetary compensation. Never invest in any stock featured on our site or emails unless you can afford to lose your entire investment. The information made available by TSM is not intended to be, nor does it constitute, investment advice or recommendations. The contributors may buy and sell securities before and after any particular article, report and publication. In no event shall TSM be liable to any member, guest or third party for any damages of any kind arising out of the use of any content or other material published or made available by TSM, including, without limitation, any investment losses, lost profits, lost opportunity, special, incidental, indirect, consequential or punitive damages. Past performance is a poor indicator of future performance. The information in this video, article, and in its related newsletters, is not intended to be, nor does it constitute, investment advice or recommendations. TSM strongly urges you conduct a complete and independent investigation of the respective companies and consideration of all pertinent risks. Readers are advised to review SEC periodic reports: Forms 10-Q, 10K, Form 8-K, insider reports, Forms 3, 4, 5 Schedule 13D. For some content, TSM, its authors, contributors, or its agents, may be compensated for preparing research, video graphics, and editorial content. Trendingsmallcaps.com has been compensated up to twenty-thousand-dollars cash via wire transfer by a third party to produce and syndicate content for NeurAxis, Inc. for a period of one month ending on September 4, 2023. As part of that content, readers, subscribers, and website viewers, are expected to read the full disclaimers and financial disclosures statement that can be found on our website. Contributors reserve the right, but are not obligated to, submit articles for fact-checking prior to publication. Contributors are under no obligation to accept revisions when not factually supported. Furthermore, because contributors are compensated, readers and viewers of this content should always assume that content provided shows only the positive side of companies, and rarely, if ever, highlights the risks associated with investment. Thus, readers and viewers should accept the content as an advertorial that highlights only the best features of a company. Never take opinion, articles presented, or content provided as a sole reason to invest in any featured company. Investors must always perform their own due diligence prior to investing in any publicly traded company and understand the risks involved, including losing their entire investment. The Private Securities Litigation Reform Act of 1995 provides investors a safe harbor in regard to forward-looking statements. Any statements that express or involve discussions with respect to predictions, expectations, beliefs, plans, projections, objectives, goals, assumptions or future events or performance are not statements of historical fact may be forward looking statements. Forward looking statements are based on expectations, estimates, and projections at the time the statements are made that involve a number of risks and uncertainties which could cause actual results or events to differ materially from those presently anticipated. Forward looking statements in this action may be identified through use of words such as projects, foresee, expects, will, anticipates, estimates, believes, understands, or that by statements indicating certain actions & quote; may, could, or might occur. Understand there is no guarantee past performance will be indicative of future results. Investing in micro-cap and growth securities is highly speculative and carries an extremely high degree of risk. It is possible that an investors investment may be lost or impaired due to the speculative nature of the companies profiled. 
Media Contact
Company Name: Trending Smallcaps
Contact Person: Jeffrey Allen
Email: contact@trendingsmallcaps.com
Country: United States
Website: https://trendingsmallcaps.com/