Financial News
Discover How to Strengthen Corporate Cybersecurity with Expert Guidance
August 14, 2023 at 15:46 PM EDT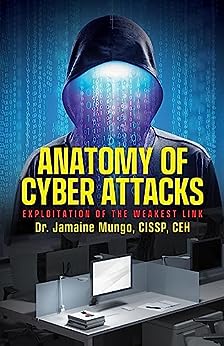 "Anatomy of Cyber Attacks" delves deep into the issue, shedding light on the importance of practical and effective cybersecurity awareness training.
Dr. Jamaine Mungo, an industry cyber expert and the author releases "Anatomy of Cyber Attacks"
New York, NY, USA - August 14, 2023 - The release of "Anatomy of Cyber Attacks," a comprehensive guide on how to combat cyber threats through effective security awareness training comes just in time as hackers worldwide are attacking personal and business computers. The book, released on July 18, 2023, "Anatomy of Cyber Attacks" has met with great success and is currently in the top 100 Kindle books on Amazon. Mungo says, "In today's digital era, phishing remains a paramount threat to businesses, especially in the retail sector. It has become increasingly evident that traditional security education awareness training falls short, failing to adequately equip employees with the knowledge needed to identify and prevent cyberattacks. Employees, as primary handlers of sensitive data, are crucial in maintaining cybersecurity. Yet, an overemphasis on technological solutions often overshadows the necessity of bolstering the human aspect of security."
"Anatomy of Cyber Attacks" delves deep into the issue, shedding light on the importance of practical and effective cybersecurity awareness training. The book highlights:
The significance of a strong knowledge base among employees to recognize cyber threats.
Best practices for corporations to instate secure computing habits amongst their workforce.
Methods to ensure the confidentiality of data and to avert financial losses stemming from phishing attempts.

With cybercriminals continuously seeking the weakest link in organizational security, Dr. Mungo's insights present a fresh perspective on an age-old problem. The book is an indispensable resource for security practitioners and businesses wishing to upgrade their cybersecurity measures, emphasizing the blend of technological and human-centered defenses.
For further information or interview requests with Dr. Jamaine Mungo, please contact the author at jm2434@cornell.edu
ABOUT THE AUTHOR
Dr. Jamaine Mungo's professional experience encompasses over 20 years of experience in cybersecurity implementing next-generation cyber initiatives, delivering advanced technology concepts along with researching cybersecurity risks and automated remediation solutions. He has implemented robust cybersecurity programs for the Department of Defense, State agencies, and Corporations leading several high-level cybersecurity initiatives regarding vulnerability assessments, penetration testing, security education awareness, and process improvements with automation, system hardening, and remote access programs. He is a proven certified information security professional he holds the following industry certifications Certified Information Systems Security Professional (CISSP), Certified Ethical Hacker (CEH), Certified Network Defense Architect (CNDA), Certified Hacking Forensic Investigator (CHFI), Microsoft Certified System Administrator (MCSA), Microsoft Certified Professional (MCP), Certified Professional Managers (CM), CompTIA A+, Network +, Security + Certification.
An ambitious team leader with strong leadership proficiencies and robust leadership capabilities encompassing a strong focus on exceeding goals, expectations, and deliverables. He has been successful in implementing security procedures to ensure information system security compliance. He has a strong passion for teaching and sharing his technical knowledge. He enjoys learning about next-generation advanced technology developments that can have an impact on cybersecurity. He is an enthusiastic continuous learner of technology and always researches methods to incorporate and make use of technology to make life easier with technology tools. He is a professor at Cornell University teaching various cybersecurity courses: system administration courses, security communication, cybersecurity foundations, human-computer interaction, and cybersecurity principles. He was the previous guest speaker at North Carolina A&T virtual commencement ceremony.
He has a strong passion for community service. He is the President of Kappa Iota Lambda Alumni Chapter of Alpha Phi Alpha Fraternity, Inc seated in Willingboro, NJ. He has been awarded the distinguished award Alpha Phi Alpha Man of the Year in recognition of his leadership, guidance, dedication, enthusiasm, and contribution to the community. He has been instrumental in designing the chapter website and developing the chapter app. He has led several key community engagements that include Free Grocery Give-Away, Community Clean-Up events, Voter Registration, Martin Luther King Day of Service, and National Pan-Hellenic Council Frontline Hero's Lunch. He holds a Bachelor of Science degree in Information Systems and Decision Sciences from Virginia State University, earned his master's degree in Information Security from the New Jersey Institute of Technology, and earned his doctorate in Cybersecurity from Capella University.
Contact
Media Contact
Company Name: AAPH
Email: Send Email
Country: United States
Website: https://www.anatomyofcyberattacks.com/