Financial News
Adhespack Launches Revolutionary 100% Paper Fragrance Samples That Decompose in Just 154 Days
July 21, 2023 at 19:34 PM EDT
Adhespack, a leading provider of fragrance sampling solutions, has just launched a game-changing product that will transform the industry. Our unique combination of Suzano's Greenpack®  paper and our microencapsulation technology allows us to create 100% paper fragrance samples, without the need for any plastic or aluminum. The FSC barrier paper Greenpack® is recyclable, compostable, and biodegradable according to ISO 14855-1:2012, DIN EN 14045:2003, and OECD 208.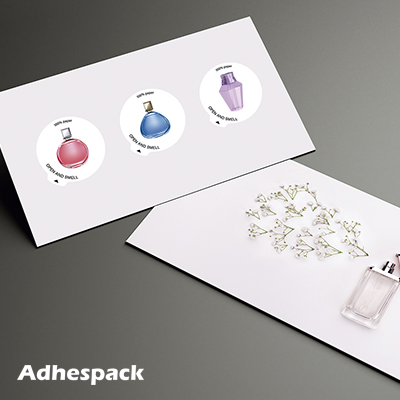 Our 100% paper fragrance samples, made with Greenpack® paper and our specially designed microcapsules, offer high olfactory fidelity and are a game-changer for sustainability in the fragrance industry. Furthermore, our commitment to reducing our carbon footprint is evident in our scented labels, which disappear in just 154 days, leaving no trace behind.
Our sampling solutions are also incredibly cost-effective, with 1 kg of fragrance producing up to 200,000 samples. And with a shelf life of at least one year, you can be sure that your products will stay fresh for your customers.
As part of our partnership with 1% for the Planet, Adhespack is dedicated to making a real difference with every purchase. By choosing our 100% paper fragrance samples, you're not only making a sustainable choice but also contributing to a better future for our planet. Our commitment to sustainability extends beyond reducing our environmental impact - we actively support environmental initiatives to create a brighter and greener world for generations to come.
At Adhespack, our mission is to create a greener future for fragrance sampling by using our expertise to develop innovative solutions that reduce our impact on the environment without sacrificing product quality. By choosing Adhespack for all your fragrance and labeling needs, you can join us in our commitment to sustainability and be confident in the eco-friendliness of our products. Let's work together to create a brighter future for all.
See more at https://adhespack.com.br/service/scent-green/
Media Contact
Company Name: Adhespack Creative Sampling
Contact Person: Sergio Picciarelli
Email: Send Email
Phone: +34 627284265
Country: Spain
Website: https://adhespack.com.br/service/scent-green/