Financial News
RedStone Oracles Announces Exclusive Angel Round backed by Top Web3 Builders
May 22, 2023 at 15:06 PM EDT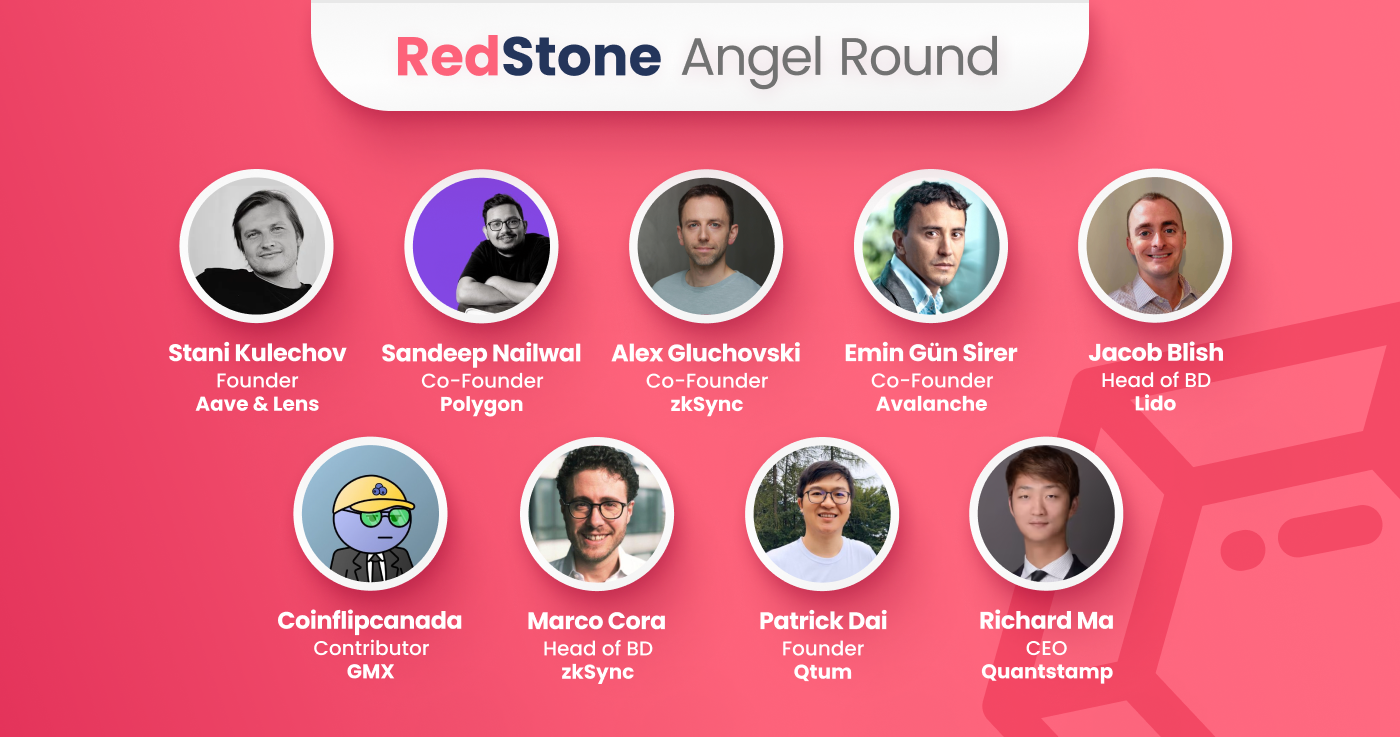 QUICK TAKE:

- Key opinion leaders support RedStone and the company's cross-chain expansion (including Stani Kulechov, Sandeep Nailwal, Alex Gluchovski and Emin Gün Sirer).
- RedStone's modular design provides flexibility and a unique data feed offering.
- RedStone is a well-positioned Oracle in the rapidly growing Web3 ecosystem.
BAAR, Switzerland - May 19, 2023 - In an angel round announced today, recognized Web3 leaders, including Stani Kulechov, Sandeep Naiwal, Alex Gluchovski, Emin Gün Sirer have backed RedStone - a novel oracle provider. RedStone is disrupting the oracle space by introducing a modular design, customizable data feeds and presence on all EVM L1 and L2 networks. The support from pioneers demonstrates the need for diverse and efficient oracle options and the conviction that RedStone can make a difference in the industry.
RedStone is Cross-chain by Design, Catering to Builders
RedStone was founded in 2021 and launched its first production deployments in January 2023. The company raised $7 Million last year from some of the most renowned  Web3-focused VCs, including Lemniscap, Blockchain Capital, Maven11 and Coinbase Ventures. With support from the best builders in the space, RedStone's innovative data consumption models allow for new products to be built that were not possible before. The current high-profile angel round participants include:
Stani Kulechov - Aave Companies Founder and CEO
Sandeep Nailwal - Polygon Co-Founder
Alex Gluchovski - Matter Labs (zkSync) CEO & Co-Founder
Emin Gün Sirer - AvaLabs (Avalanche) CEO & Co-Founder
Coinflipcanada - GMX Core Contributor
Jacob Blish - Lido Head of BD and Partnerships
Richard Ma - Quantstamp CEO
Marco Cora - Matter Labs (zkSync) SVP Business and Operations
Patrick Dai - Qtum Founder

"RedStone has created a unique, modular oracle that supports both new and established dApps on L1 and L2 networks. Combined with strong security measures and their ability to deliver non-standard data, RedStone is poised to provide choice and flexibility for the industry," said Stani Kulechov, Aave Companies Founder and CEO.
The Oracle Landscape in 2023 and Beyond
The oracle market has been monopolized for years, which hinders innovation and dApps' negotiating power. Since 2017, the Web3 industry has gone through major enhancements with the emergence of DeFi, Ethereum upgrades, the LPs and LSTs boom. Currently, Optimistic and ZK roll-ups are thriving and modular design has captured wide attention. The last trend is a crucial dynamic for the future of RedStone's Oracles adoption.
RedStone embraces modular flow and is for oracle space, what L2s are for blockchains - a customizable data scalability layer that inherits the security of the destination chain. By keeping signed data packages in RedStone Data Access Layer and delivering them according to conditions set by dApps, gas costs can be reduced by up to 90% and achieve sub-second price feed latency on high-performance ecosystems. Moreover, RedStone Data Access Layer is flexible, catering to DeFi builders. RedStone offers data feeds that are unique and otherwise unavailable in the industry.
"To create innovative protocols, we can't keep on using the same concepts from the 2020 DeFi Summer. The way oracles work has not evolved much in the past years, which stifles growth. We need quick responses to market trends, an architecture compatible with zk-powered L2s and optimization in gas costs - that's what RedStone Oracles brings to the table," said Sandeep Nailwal, Polygon Co-Founder.
RedStone is ready to use on 40+ L1s & L2s, above major supported ecosystems.
What's Next for RedStone?
The company stays in a close feedback loop with top DeFi protocols, designing new features and maintaining strict security standards - the single most important factor in the oracle business. RedStone expands beyond EVM environments with the Oracle available on Starkent and Fuel Network.
"Creative startups who come and challenge incumbents are very important as they boost growth and ecosystem vibrancy. In the coming months, we will see innovative DeFi protocols powered by RedStone models launching on major networks such as zkSync Era," said Alex Gluchovski, Matter Labs (zkSync) CEO & Founder.
The detailed version of this article is available on their Blog.
Join the RedStone community: Twitter
Media Contact
Company Name: RedStone
Contact Person: Maja Cholewka
Email: Send Email
City: BAAR
Country: Switzerland
Website: https://redstone.finance/