Financial News
New memoir "Screw U" by Jim Masiello is released, an unflinching account of the insurance mogul's battles with the IRS and banking industry along the road to massive success
May 19, 2023 at 18:18 PM EDT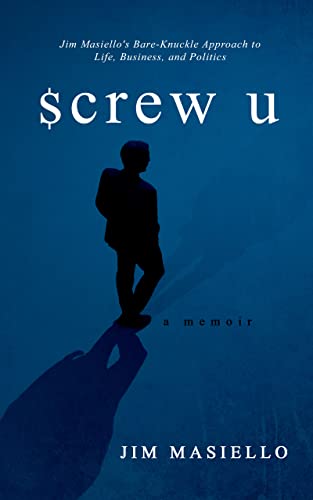 "Screw U" by Jim Masiello has been released worldwide. This eye-opening, 170-page memoir, which has achieved Amazon Bestseller status as #1 in the "Government Accounting" category, and #1 in the "Financial Accounting" category, tells the incredible story of Masiello's rise to success as the founder of the $10 Billion premium Strategic Insurance Agency Alliance (SIAA), with over 5000 insurance agencies nationwide, and the ugly side of the financial industry that tried to thwart him. With millions of dollars on the line, Jim refused to back down in the face of threats, intimidation, lawsuits, and worse.
Unafraid to push back against IRS agents, lawyers, or bankers, Jim built a self-made career despite the obstacles, jealousy, and sabotage attempts that threatened to take everything away from him. In this tell-all memoir, he shows the deceit and aggressions the finance industry was capable of, as well as the perseverance and toughness required to withstand their attacks. 
Mariel Hemingway, Oscar-nominated actress, author, and granddaughter of Nobel Prize-winning novelist Ernest Hemingway, says, "When I first heard about Jim Masiello and his memoir SCREW U, it struck me as a perfect encapsulation of the American dream… While his ability to overcome setbacks on his way to changing lives was impressive, I appreciated his desire to become more skilled and successful and how that came through in his brash, confrontational style. He seems fearless even in the face of fierce adversity."
See the full endorsement at https://www.youtube.com/watch?v=upnsUKZwKZ8
With honest, sometimes brash commentary on big business, politics, banking, and beyond, Jim brings readers into a world fraught with setbacks and marked by big wins. Readers get an inside look at his early life and career, the staggering amounts of money financial institutions tried to take, and the arduous process of fighting back. 
Readers will be surprised by the nefarious tactics that were used behind the scenes, and inspired by the author's tenacity for tackling problems head on.
Screw U (ISBN: 9781958729397) can be purchased through retailers worldwide, including Barnes and Noble and Amazon. The paperback retails for $14.95. Wholesale orders are available through Ingram. Review copies and interviews are available upon request.
From the back cover:
Most people's worst nightmare is a problem with the IRS or the bank. Jim had them both coming after him for tens of millions of dollars.
Jim Masiello is widely known as the founder of the insurance giant SIAA, the Strategic Insurance Agency Alliance, but what people don't know is that along the road to building his company Jim had to fight through a devastating situation with the IRS and fend off a flurry of improbable threats from big banks looking to bring him down.
Far from the professional and cordial experiences most people have with their banks, Jim has stories to share from his time in the insurance and real estate worlds that shed light on the darker side of the financial industry. When millions of dollars are on the line, things turn ugly fast, but this scrappy boy from the wrong side of the tracks had a mouth to match and wasn't afraid to let anyone have it.
Screw You is the true story of a man who didn't have anything handed to him and had to work hard, often against outright belligerence and jealousy, reaching the highest echelons of the business world in the process. Whether it's tense negotiations, courtroom drama, shocking letters announcing millions of dollars in debt out of thin air, or the jaw-dropping chicanery of banking executives, Jim Masiello has seen it all.
And for those who crossed him on his way to the top, Jim Masiello has a couple of choice words for them.
About MindStir Media:
MindStir Media LLC is an award-winning book publisher. To learn more about publishing a book with MindStir Media, visit http://mindstirmedia.com or call 800-767-0531.
Media Contact
Company Name: MindStir Media LLC
Contact Person: Jen McNabney
Email: Send Email
Phone: 800-767-0531
Address:1 New Hampshire Ave Suite 125
City: Portsmouth
State: NH
Country: United States
Website: https://mindstirmedia.com/