Financial News
DEXPOLE launches its 65W Solar Power Bank for outdoor life
November 08, 2022 at 12:56 PM EST
DEXPOLE, a premier mobile energy equipment manufacturer for outdoor enthusiasts has launched its latest product, the DEXPOLE Solar Power Bank for outdoor life.
A power bank is an essential piece of equipment to keep devices like gadgets, radios, appliances, and smartphones charged and running during camping, hiking and other outdoor activities. Power Banks like DEXPOLE's Solar Power Bank have an advantage over other alternative power sources in that they don't require electricity, gasoline, kerosene, or propane to run. This not only saves one money and time spent on engine maintenance, it makes battery backups much safer to use indoors.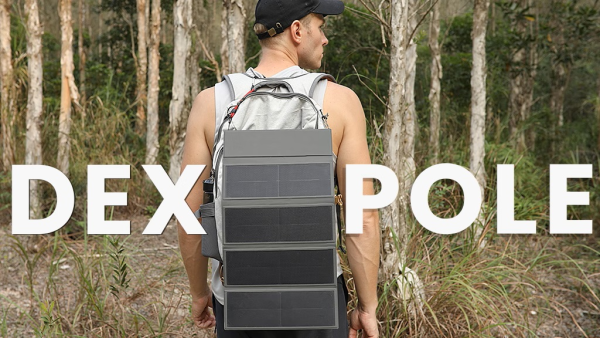 DEXPOLE provides charging on the go. Whether on a beach, a trail, or simply in the mountains, DEXPOLE Solar Charger will be ready to be used. A power outage can happen at any time but with DEXPOLE Solar Charger in your emergency preparedness kit or bag, all of your basic power needs are met.
DEXPOLE is a new way to store and use solar energy. The innovative 24000mAh solar cells are produced by Sunpower - the leading solar company in the world. Compared with normal solar cells, DEXPOLE's solar cells have higher efficiency which is more powerful than ever before. The Solar panels can be bent to a small extent without damage, while still maintaining the normal output of power. The solar charger can be fully charged in 4-5 hours when there is sufficient sunshine.
With an output power and input charge power of 65W, Dexpole can charge all your mobile devices and laptops and is fully compatible with Apple and Android products. The device offers fast charging for double output ports, Apple and Android products, and laptops.
The Dexpole solar panel surface was designed with ETFE laminated panel with high light transmission, water-resistant, scratch-resistant, good insulation, low water absorption, good flame retardancy, strong chemical corrosion resistance. The panel can withstand high humidity and spatter, and the waterproof and dustproof grade is IP68.
About DEXPOLE
The DEXPOLE team has been working in the solar energy and power supply industry for nearly 20 years. The company is committed to providing mobile energy equipment for outdoor enthusiasts around the world, with three core values: "green technology, low-carbon environmental protection", and "craftsman spirit." The company believes that by expanding its products and services, they can provide more convenient, higher quality products, and innovation to lead the fashion, health, comfort, rich, and colorful outdoor leisure lifestyle.
To have an in-depth look at the fascinating DEXPOLE Solar Power Bank, check out the company's page on Kickstarter.
Media Contact
Company Name: DEXPOLE
Contact Person: Gustave
Email: Send Email
Country: China
Website: https://www.kickstarter.com/projects/565395197/dexpole-foldable-portable-most-effective-solar-charger?ref=5mdk3p&token=cbf4de57