Financial News
RYOT and Chocolate Skateboards Team Up for 2021 Product Collaboration
October 19, 2020 at 03:40 AM EDT
Two counterculture favorites to create a collaborative product capsule and sell in respective channels
(PRUnderground) October 19th, 2020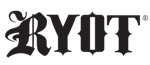 RYOT and Chocolate Skateboards have a number of things in common: they occupy prominent spots in counterculture, are devoted to action sports and other alternative cultures, and sponsor the same professional skateboarder, Yonnie Cruz. Now, the two companies are officially joining forces for a product collaboration capsule set to debut in March of 2021.
RYOT is dedicated to elevating the herb consumption experience through its innovative products, including herb grinders with patented modular designs that allow for smooth grinding and ease in changing consistency. They also offer transport and storage products, including stash boxes and smell-proof bags and boxes, that are both finely-crafted and discrete.
Dan Talbot, co-founder of RYOT, said that the collaboration with Chocolate Skateboards has been a long time coming. "This has been a long conversation between two companies that share a mutual admiration. We're excited to bring more awareness to our brands and to help some of the world's most talented riders chase their dreams."
Chocolate Skateboards' sponsorship has helped cultivate some of the most iconic skateboarders in the industry. In their collaboration with RYOT, they will continue this effort, promoting up-and-coming athletes such as Yonnie Cruz.
The collaboration will include RYOT stash socks, a Kannastor herb grinder, a RYOT grinder, and a small selection of apparel. In addition, the new Paper Baggy Rolling Utility Kit by RYOT will be included with all Chocolate X RYOT Skateboards. These products will be available on both companies' websites and in retail shops.
Talbot said that he hopes customers will see their shared brand personalities coming through in the collaboration. "We're both extremely committed to our craft and the communities we serve, but we also put a major emphasis on fun and creativity. We think that we compliment each other, and we're excited to pool our efforts to further our respective brands and support action sports athletes and counterculture."
RYOT's leadership team walks the walk. They elevate herb consumption to a fine art in their personal lives and are also avid action sports participants. They have been featured in Esquire, HuffPost, and Forbes. To learn more about the upcoming Chocolate Skateboards-RYOT product collaboration capsule, visit www.RYOT.com.
About RYOT
Established in 2000, RYOT is dedicated to serving the herb enthusiasts community with pollen presses, dugouts, herb grinders and smell proof bags geared for modern times.
The post RYOT and Chocolate Skateboards Team Up for 2021 Product Collaboration first appeared on PRUnderground.
Press Contact
Name: Dan Talbot

Phone: 1-855-736-6285

Email: Contact Us

Website: http://ryot.com/
Original Press Release.