Financial News
Campbell Appoints Rebecca Gardy Vice President, Investor Relations
March 03, 2020 at 16:30 PM EST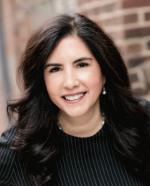 Campbell Soup Company (NYSE: CPB) today announced the appointment of Rebecca Gardy as Vice President, Investor Relations, effective March 30, 2020. Gardy will lead the Investor Relations function and serve as the primary liaison between Campbell and the investment community. She will report to Mick Beekhuizen, Campbell's Executive Vice President and Chief Financial Officer.
This press release features multimedia. View the full release here: https://www.businesswire.com/news/home/20200303005884/en/
Campbell Appoints Rebecca Gardy Vice President, Investor Relations (Photo: Business Wire)
Beekhuizen said, "Rebecca brings significant strategic and financial expertise to the role, having led investor relations functions at both publicly traded companies and startups. Rebecca will be a great addition to Campbell and a resource to the investment community as we continue on our path to generating sustainable growth and enhancing shareholder value."
Gardy joins Campbell from GreenSky, Inc., a financial technology company, where she served as Senior Vice President, Investor Relations, Public Relations and Corporate Communications. Previously, she served as Investor Relations Officer for SecureWorks, a Dell Technologies company, and Senior Director of Global Investor Relations at Nike, Inc. Earlier in her career, Gardy held finance and investor relations leadership positions at Popeyes Louisiana Kitchen, Inc. and Quiznos, LLC. She began her career in corporate banking.
Gardy received her B.S. in Applied Economics and Business Management from Cornell University and her MBA from Emory University.
Gardy succeeds Ken Gosnell, Vice President, Finance Strategy and Investor Relations, who in October 2019 announced his plans to retire. To ensure a smooth transition, Gosnell will stay on through April.
About Campbell Soup Company
Campbell (NYSE:CPB) is driven and inspired by our purpose, "Real food that matters for life's moments." For generations, people have trusted Campbell to provide authentic, flavorful and affordable snacks, soups and simple meals, and beverages. Founded in 1869, Campbell has a heritage of giving back and acting as a good steward of the planet's natural resources. The company is a member of the Standard and Poor's 500 and the FTSE4Good Index. For more information, visit www.campbellsoupcompany.com or follow company news on Twitter via @CampbellSoupCo.
View source version on businesswire.com: https://www.businesswire.com/news/home/20200303005884/en/
Contacts:
INVESTOR CONTACT:
Ken Gosnell
(856) 342-6081
Ken_Gosnell@campbells.com