Financial News
Campbell Soup Foundation Recognizes Camden Organizations for Improving Lives of City Residents
December 13, 2019 at 15:00 PM EST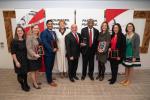 Campbell Soup Company (NYSE: CPB) and the Campbell Soup Foundation hosted a ceremony yesterday to recognize and celebrate organizations that have made a significant impact in the Camden community. Five local organizations received awards totaling $5,500. The Foundation's 15th networking breakfast, which was attended by more than 100 community leaders, was part of Campbell's ongoing 150th anniversary celebration.
This press release features multimedia. View the full release here: https://www.businesswire.com/news/home/20191213005465/en/
Kate Barrett, Senior Manager – Community Affairs, Campbell Soup Company; Pilar Hogan Closkey, Executive Director, St. Joseph's Carpenter Society; Justin Spencer-Linzie, Senior Director of Community Youth Programs, Greater Philadelphia YMCA; Kim Fortunato, Director of Community Affairs, Campbell Soup Company and President, Campbell Soup Foundation; Camden Mayor Frank Moran; Wilbert Mitchell, Executive Director, Respond, Inc.; Tricia Yeo, Senior Manager of Health and Wellnes, Food Bank of South Jersey; Elsa Candelario, Executive Director, Hispanic Family Center of Southern New Jersey; and Amanda Bauman, Senior Manager – Community Affairs, Campbell Soup Company (Photo: Business Wire)
"Campbell's commitment is evident now more than ever as they celebrate 150 years here in Camden," said Camden Mayor Frank Moran, who attended the event and provided opening remarks. "Campbell has been a strong community stakeholder and, moreover, a conscious corporate partner who cares for the most vulnerable living within our community. Whether it is supporting civic events or partnering with local organizations through their Healthy Communities initiative aimed at promoting healthy eating, the Camden community remains a priority. I congratulate the award recipients who embody the values which Campbell has exhibited over the past 150 years."
Guests were welcomed by Chris Foley, President of Campbell's Meals & Beverages Division, who said, "Our people and the great pride we have in our company, our brands and our community are key ingredients of our success. We're honored to celebrate and recognize these organizations who are so committed to making Camden a better place for everyone."
The Foundation recognized four local organizations that embody Campbell's core values; and, in honor of Campbell's milestone 150th anniversary, also presented a special Camden Legacy Award to recognize a community organization that has had a long-lasting impact on the community. The Campbell Values Award recipients each received a $1,000 grant for their organizations; the Camden Legacy Award recipient was awarded $1,500.
"Campbell has been a proud member of the Camden community since our founding in 1869," said Kim Fortunato, President of the Campbell Soup Foundation. "For 150 years, we've been committed to partnering with local organizations in Camden and other Campbell hometowns to improve the communities where our employees live and work."
Campbell has been an integral part of the Camden community since the company's founding in 1869. Over the past 10 years alone, Campbell has provided nearly $30 million to support the Camden community. In 2010, Campbell committed $10 million over 10 years to measurably improve the health of young people in Camden via the Campbell's Healthy Communities program, which has since been extended to other Campbell communities.
The Campbell Soup Foundation was founded in 1953 and provides approximately $700,000 in grants to Camden non-profits annually and an additional $1 million+ to Campbell communities nationally. More information about Campbell's ongoing commitment to the City of Camden can be found in the Campbell Newsroom.
About Campbell Soup Company
Campbell (NYSE:CPB) is driven and inspired by our Purpose, "Real food that matters for life's moments." For generations, people have trusted Campbell to provide authentic, flavorful and affordable snacks, soups and simple meals, and beverages. Founded in 1869, Campbell has a heritage of giving back and acting as a good steward of the planet's natural resources. The company is a member of the Standard and Poor's 500 and the FTSE4Good Index. For more information, visit www.campbellsoupcompany.com or follow company news on Twitter via @CampbellSoupCo.
View source version on businesswire.com: https://www.businesswire.com/news/home/20191213005465/en/
Contacts:
Amanda Pisano
856-342-8590
Amanda_Pisano@campbells.com