Financial News
"Massive Aggressive The Card Game" Launches Kickstarter to Bring Funny & Strategic Card Game to Market
January 25, 2019 at 13:20 PM EST
Soon there won't be any need to wonder about to wonder to do that's fresh & fun to do on a date or friend's night. "Massive Aggressive The Card Game" promises to excite & entertain.
Minneapolis-St. Paul, MN (PRUnderground) January 25th, 2019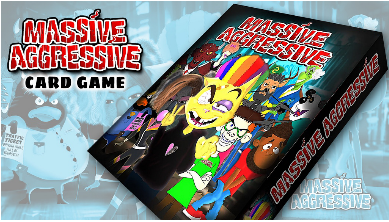 There are few things that can help a date night or friends getting together to socialize and have a laugh energize like playing a fun card game. For those who agree, there's some very good news. "Massive Aggressive The Card Game" is the brainchild of a very innovative team and designed to be both hysterical and a challenging, brain-stimulating strategic competition at the same time. Turning to enthusiasts to go beyond prototypes and bring the game to market the team "Massive Aggressive The Card Game" recently celebrated the launch of a crowdfunding campaign on Kickstarter, that's surrounded by excitement.
"Think: if the Uno guy and the Monopoly guy were driving together and they tried to road rage 'Old Maid…. and then she pulled over and beat them both up and you have an idea where we are coming from," commented Asa Thibodaux, from Massive Aggressive Games. "So our advice is this: help us fund our campaign, get your 1st edition of 'Massive Aggressive The Card Game' in the mail and shut up and play! You will see how awesome it is first-hand."
The fun and funny plot behind "Massive Aggressive" has self-centered humans facing off against ego-maniac hybrid creatures, with the sole purpose of annoying each other to the maximum. From two to eight people can play at one time, battling it out until there's only one player left standing.
All of the cards are very creatively illustrated in a style that fits perfectly with the game's sense of humor and vision. It's both easy to learn and kid friendly. Expansions to the game are also planned.
The Kickstarter has set a campaign goal of $10,000 and ends on February 11th, 2019. If not completely funded "Massive Aggressive The Card Game" will not go into production. A number of different donation options are presented with perks skyrocketing as the donation rises.
For more information and to get in on the fun visit https://kck.st/2sFYubh.
About Massive Aggressive The Card Game
Massive Aggressive is a hilarious strategic card game that fights back, created and illustrated by Asa Thibodaux.
Press Contact
Name: Asa Thibodaux

Phone: 763-498-1577

Website: https://kck.st/2sFYubh
Original Press Release.