Financial News
Eversource Names New Regional Electric Operations President for Connecticut and Massachusetts
June 23, 2016 at 16:18 PM EDT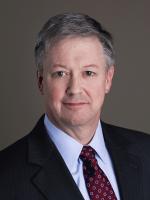 Eversource Energy (NYSE: ES) is pleased to announce that Craig Hallstrom has been named as Regional Electric Operations President for Connecticut and Massachusetts. In his new role, Hallstrom will have oversight of electric field and system operations for both states. He has a well-established reputation for delivering operational excellence with a focus on emergency response and employee safety during his 27-year career with the company. Most recently, he served as President of Electric Operations for eastern and western Massachusetts.
This Smart News Release features multimedia. View the full release here: http://www.businesswire.com/news/home/20160623006294/en/
Craig Hallstrom (Photo: Business Wire)
"Under Craig's leadership, we will continue to integrate and standardize best practices and processes at our two largest operating companies, ensuring consistency of approach, superior customer service delivery, and efficiency," said Werner Schweiger, EVP and COO of Eversource. "Our customers are experiencing reliability that is better than ever thanks to solid investments, aligned practices and sharing our strengths across all three states. That great performance will only continue with Craig's leadership and expertise in this role."
"During my time with the company, we've continually evolved with the times, utilizing the latest advances in technology to successfully meet the needs of our customers with improved reliability," said Hallstrom. "I'm honored to have been chosen for this role and I look forward to continuing to streamline our processes and reinforcing our improved storm response to further deliver great results for our customers."
Hallstrom holds an MBA from Northeastern University and a Bachelor of Science in Business Management from Merrimack College. In his new role, Hallstrom will split his time between Connecticut and Massachusetts.
Eversource (NYSE: ES) transmits and delivers electricity and natural gas for more than 3.6 million electric and natural gas customers in Connecticut, Massachusetts and New Hampshire. Recognized as the top-ranked "green" utility in the U.S. by Newsweek magazine, Eversource harnesses the commitment of its approximately 8,000 employees across three states to build a single, united company around the
mission of delivering reliable energy and superior customer service. For more information, please visit our website (www.eversource.com) and follow us on Twitter (@EversourceCorp) and Facebook (facebook.com/EversourceEnergy).
View source version on businesswire.com: http://www.businesswire.com/news/home/20160623006294/en/
Contacts:
Eversource Energy
Caroline Pretyman, 617-424-2460
caroline.pretyman@eversource.com
or
Tricia Taskey Modifica, 860-665-4605
tricia.modifica@eversource.com