Financial News
Piurify Launches New Hydrogen Water Bottle to Improve Hydration and Health
September 21, 2023 at 06:48 AM EDT
Piurify LLC, a leading innovator in health and wellness products, recently announced the launch of its newest product, the Piurify Hydrogenator Bottle.
Wilmington, Delaware, United States - September 21, 2023 —
This cutting-edge hydrogen water bottle is designed to enhance hydration and promote overall health. The Piurify Hydrogenator Bottle uses advanced electrolysis technology to infuse regular water with H2. The bottle is easy to use and portable, making it the perfect way to enjoy hydrogen-rich water on the go.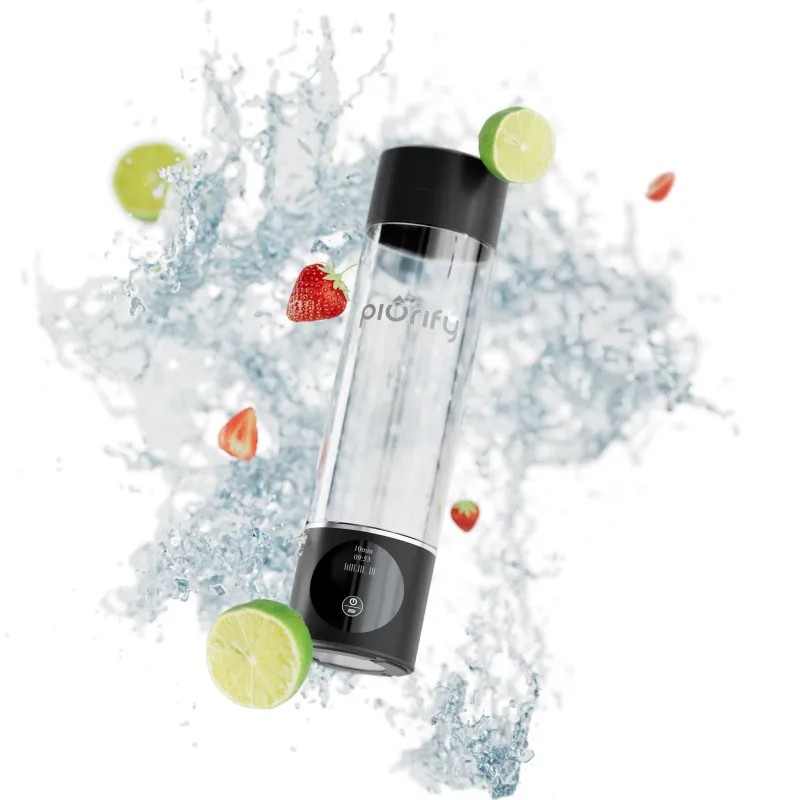 Why opt for hydrogen water over regular water?
Hydrogen water is regular water that has been infused with molecular hydrogen (H2). H2 is a powerful antioxidant that can help to reduce oxidative stress and inflammation in the body. Studies have shown that hydrogen water can improve hydration, boost athletic performance, and reduce the risk of chronic diseases.
A recent study published in National Library of Medicine found that "hydrogen water acts as a therapeutic antioxidant by selectively reducing cytotoxic oxygen radicals". This means that hydrogen water can help to protect the body from damage caused by free radicals, which are unstable molecules that can contribute to aging and disease.
Source:- https://pubmed.ncbi.nlm.nih.gov/17486089/
Another study, published in the National Library of Medicine, found that "consumption of molecular hydrogen prevents the stress-induced impairments in hippocampus-dependent learning tasks during chronic physical restraint in mice" This suggests that hydrogen water may also have neuroprotective effects and could be beneficial for people with conditions such as Alzheimer's disease and Parkinson's disease.
Source:- https://pubmed.ncbi.nlm.nih.gov/18563058/
Piurify water hydrogenator bottles are reusable and eco-friendly, unlike regular disposable water bottles, which are used only once and can pollute the environment. Portable water hydrogen bottles, on the other hand, can be used repeatedly without harming the environment. This reduces the production and disposal of new plastic bottles, which helps to protect our planet..
 Key Features of the Piurify Hydrogenator Bottle:
Built With Food Grade Material: The Portable Water Hydrogen Generator bottle is crafted from food-grade materials, ensuring safety and quality. For every sip you drink, you're drinking healthy drinking water.
DuPont SPE/PEM Technology: The product uses DuPont SPE/PEM Technology to ensure that the hydrogen concentration is extremely pure, at 99.99%, providing you with over 3000 parts per billion (PPB) of hydrogen in the water.
Convenient and Portable: The Piurify Hydrogenator Bottle is designed for on-the-go lifestyles. Its sleek and ergonomic design fits easily into bags, making it perfect for the gym, office, travel, and everyday use.
Long-Lasting Battery: The built-in rechargeable battery ensures that you can enjoy hydrogen-rich water throughout the day without constantly recharging.
Easy-to-Use: Simply fill the bottle with water, press a button, and wait a few minutes for the water to become enriched with hydrogen. It's that simple to incorporate hydrogen-rich water into your daily routine.
Durable and Stylish: The Piurify Hydrogenator Bottle comes in a modern, sleek black design that is not only functional but also stylish, making it a fashion-forward accessory.
OLED Display for Easy Monitoring: The Piurify Hydrogenator Bottle features an OLED display that provides a timer, hydrogen concentration in parts per billion (PPB), and battery lifespan. Easily track your usage and stay informed about the device's power status.
Why choose Piurify? 
Piurify is dedicated to providing quality in its products. Piurify LLC is constantly working hard to improve its products to fulfill customers' needs. Piurify has already proven its commitment to customers by launching its first successful product, the Piurify Water Hydrogenator, which is one of the best-selling water hydrogenator machines in the US. To celebrate the launch of the Piurify Hydrogenator Bottle, Piurify is offering an exclusive limited-time promotional offer on its official website: https://www.piurify.com/products/piurify-hydrogenator-bottle-black
About Piurify LLC
Our mission is to continuously innovate and develop products that deliver the water we all deserve—clean and rich in essential minerals, just as nature intended. We strive to achieve this by improving upon existing solutions and pioneering entirely new technologies in the market.
Contact Info:
Name: PIURIFY
Email: Send Email
Organization: PIURIFY LLC
Website: https://www.piurify.com/

Release ID: 89108052
In case of detection of errors, concerns, or irregularities in the content provided in this press release, or if there is a need for a press release takedown, we strongly encourage you to reach out promptly by contacting error@releasecontact.com. Our efficient team will be at your disposal for immediate assistance within 8 hours – resolving identified issues diligently or guiding you through the removal process. We take great pride in delivering reliable and precise information to our valued readers.