Financial News
Conservative Search Engine With Google Bard, ChatGPT AI Alternative Introduced
August 24, 2023 at 17:52 PM EDT
A new privacy-focused search engine with AI capabilities is now available to internet users concerned about the data collection practices of mainstream tech companies.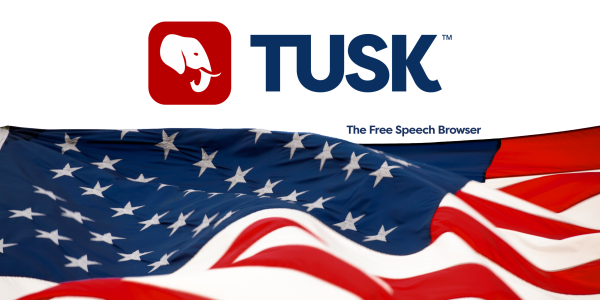 Santa Barbara, United States - August 24, 2023 —
Virtual World Computing, LLC, the creator of the TUSK Browser, has introduced a complementary search engine that offers an alternative to Google and Bing. According to the company, the search engine was initially conceived for conservative users, but it may also benefit users from countries with restrictive censorship laws.
More information is available at https://tuskbrowser.com/search/
TUSK Search is the result of heavily modifying the open-source Chromium codebase to remove any tracking capability while allowing popular Chrome extensions to function normally. This means that users will see superficial similarities to Google, but with user tracking blocked by default, allowing them to search the web without fear of being monitored.
"We don't get to see the sites you visit, what you type in the browser, or what you download. This type of data is either stored locally on your device, or encrypted," Virtual World Computing stated.
Furthermore, TUSK Search has a built-in "bias slider" that allows users to filter search results according to the political leaning of their sources. For instance, those who want to see only results coming from moderate sources can select "center" to bring up results from publications and content platforms that have historically provided a centrist point of view.
Another exclusive feature of TUSK Search is Gippr AI, which was conceived as an alternative to popular generative AI that has been reported to hold left-leaning biases. According to Virtual World Computing, Gippr AI promotes "conservative values" that can be useful for discerning users looking for an opposing point of view that they can use in opinion-making.
TUSK Search and Gippr AI are the brainchild of serial entrepreneur and free speech advocate Jeff Bermant. Prior to developing TUSK, Mr. Bermant created the Cocoon Browser, which allows users to bypass region restrictions and access US content from anywhere in the world.
TUSK Search and all its features are built into the TUSK Browser, which can be downloaded at no cost for Windows, macOS, Android, and iOS. It can also be accessed using any browser by logging on to https://tusksearch.com/
Contact Info:
Name: Jeff Bermant
Email: Send Email
Organization: TUSK
Address: 5383 Hollister Ave., Suite 120, Santa Barbara, CA 93111, United States
Website: https://tuskbrowser.com/

Source: PressCable
Release ID: 89105806
If there are any problems, discrepancies, or queries related to the content presented in this press release, we kindly ask that you notify us immediately at error@releasecontact.com. Our responsive team will be available round-the-clock to address your concerns within 8 hours and take necessary actions to rectify any identified issues or support you with press release takedowns. Ensuring accurate and trustworthy information is our unwavering commitment.