Financial News
Institutions Make Big Bets On AI Stocks With Profits
September 14, 2023 at 07:00 AM EDT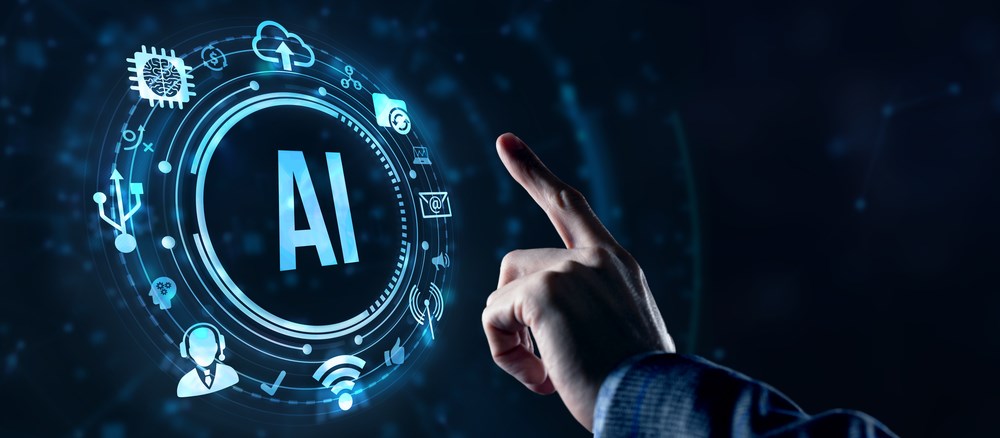 AI is hot right now and driving outsized expectations for many stocks today. One way to tell which companies have the best chances of success is to see which ones the institutions are buying. Institutional buying is significant and should be watched for many reasons. Most importantly, they have the power to move the market. 
Additionally, a stock with a high institutional interest often has lower volatility due to the buy-and-hold nature of institutional investing. When institutions buy stock, they provide a significant tailwind, but there is a downside.  When institutions sell a stock, it can provide an insurmountable headwind for retail investors. The good news is that the institutions buy these AI stocks. 
NVIDIA: Institutions Double Down On Nvidia 
NVIDIA has emerged as the clear winner in AI. Its chips are at the heart of AI infrastructure, machine learning, and generative AI and are driving a mind-bending increase in revenue and earnings. Analysts have been driving the stock higher all year, and now the institutions are also in on the action. Institutions had been selling from a peak in ownership reached in 2021, but that changed in Q2 of this year.
Since then, institutional activity has been bullish on balance, with a significant ramp in buying in Q3. Q3 activity has total ownership back above 65% and rising due to NVIDIA's long-term outlook. The company leaned hard into AI and offers a full suite of tools and services ranging from computing power for building AI models to ready-made models focused on specific use cases.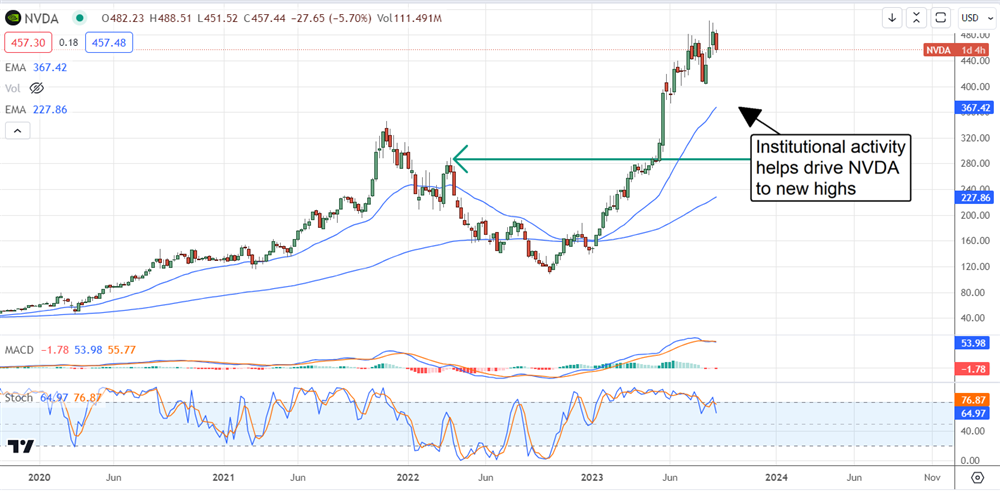 Salesforce.com: Enhancing Efficiency With AI 
Salesforce.com's business is firmly grounded in data and data analysis, making it a perfect incubator for AI and AI applications. This company's business is driven by the demand for CRM services, and the desire for AI enhances that demand. Highlights of the Q2 results include growth, outperformance, and increased guidance that have the analyst raising their targets.
The analyst sees this stock trading double-digits above where it is now, and the consensus is trending higher. Regarding the institutions, institutional activity has been bullish on balance for Salesforce.com all year, and activity ramped up in Q3 following the Q2 results. That activity netted double-digits in market cap and has total institutional holdings above 77%.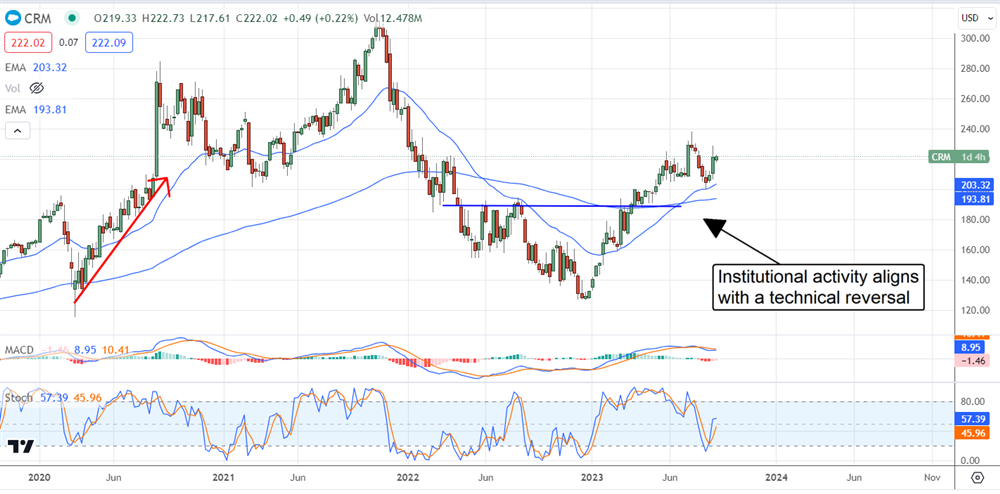 IBM: The Go-to Source For AI Business Transformation
International Business Machines is emerging as the go-to source for AI-powered business transitions. The company's cloud-centric offerings include digital labor, workflow enhancements, cyber-security, and automation. The Q2 results were mixed but had stable revenue compared to last year, wider margins, and a reaffirmed outlook.
The analysts were mixed in their reviews; the stock received some price target reductions and price target increases, but they are holding the stock, and the institutions are buying. Institutional activity has been intense all year in IBM and surged in Q3. Total ownership is up to 56% and should continue to grow this year. IBM also pays an excellent 4.5% dividend yield, helping analysts Hold and institutions buy.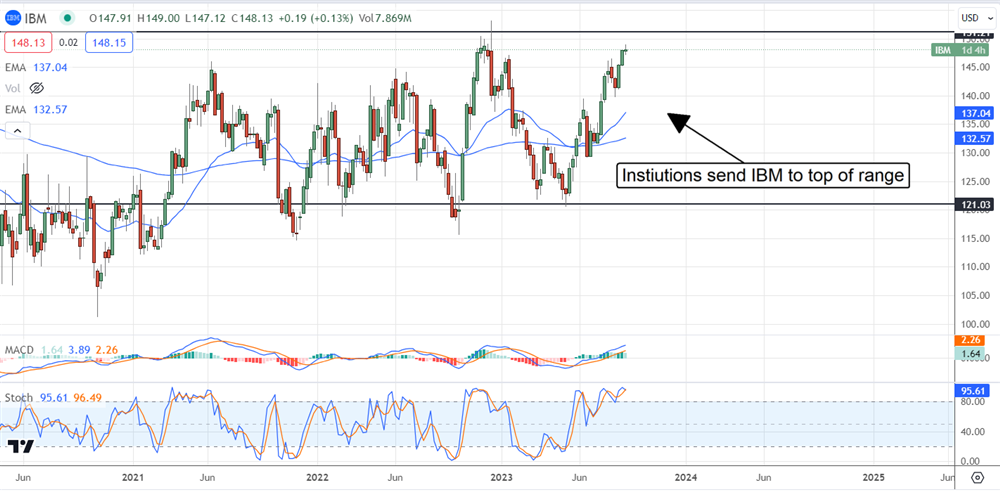 Palo Alto Networks: The Leading Cybersecurity Play
Cybersecurity stocks have been mixed this year; some are up, and some are down, and Palo Alto Networks leads the group. The company is the largest cybersecurity firm worldwide and has exposure to all aspects of the industry, including AI. AI and machine learning are used to detect, prevent, and mitigate cybersecurity events and drive business for the company.
The FQ4 results were mixed regarding the analysts' expectations, but revenue grew 25% YOY, and earnings nearly doubled. Analysts rate the stock a Buy, and their price target revisions lead the market higher. Like the others, institutional activity surged in CQ3 and has total ownership up to 85%.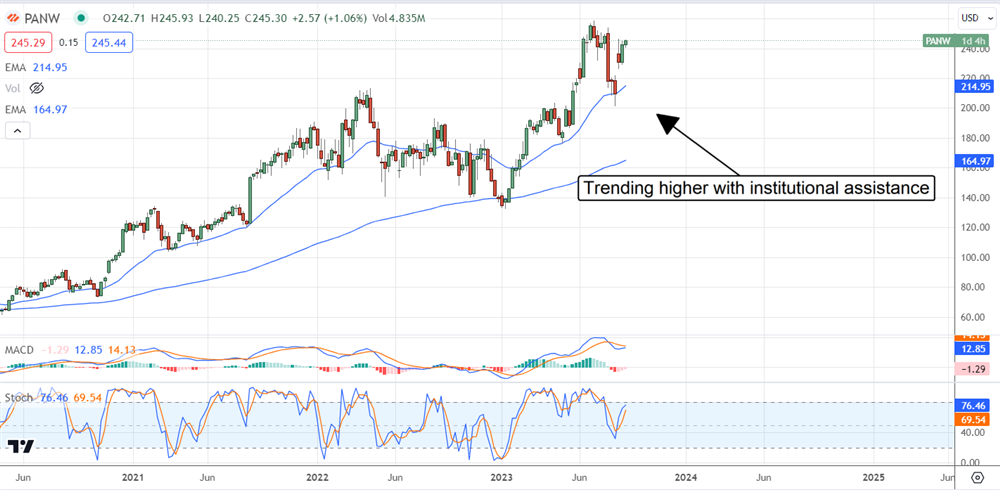 UiPath Gains Traction With Digital Robots
UiPath develops, markets, and sells services centered on digital robots. Digital robots are software programs that perform complex tasks and rely heavily on AI. The enterprise-quality software applications include cloud, unattended, and attended digital robots and test incubators for new AI apps and services. Its shares are being scooped up by mutual funds, ETFs, and index tracking funds, and it is 60% owned by institutions. Institutional buying spiked in Q3 and should continue to build following a better-than-expected Q2 EPS report and improved guidance.