Financial News
Does Dell Technologies Blowout Quarter Mean a New Demand Cycle?
September 12, 2023 at 09:00 AM EDT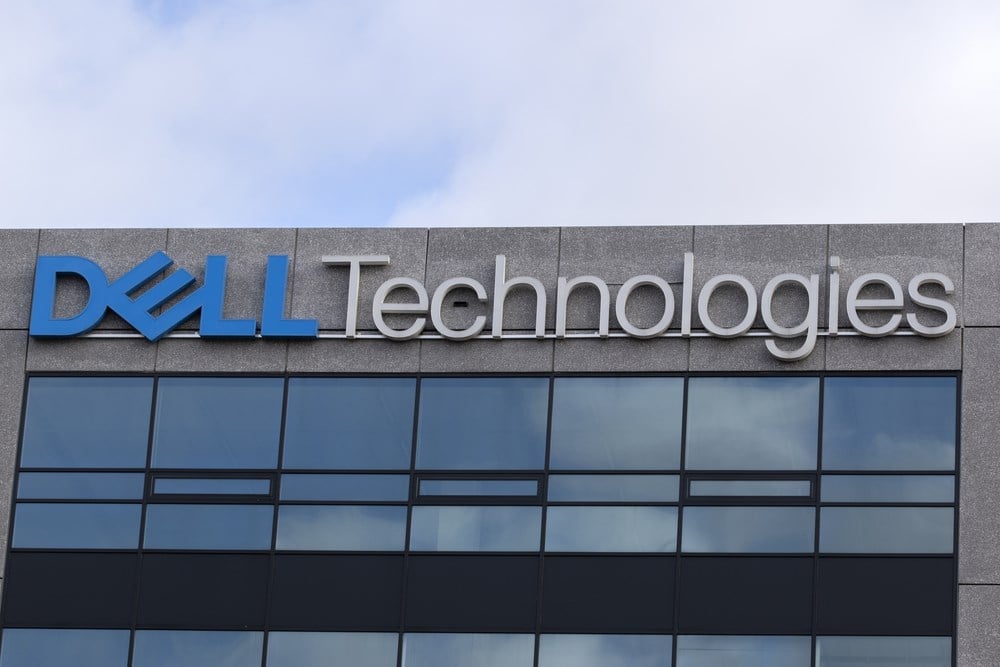 Hardware and infrastructure solutions provider Dell Technologies Inc. (NASDAQ: DELL) has proven to be a large benefactor of the artificial intelligence (AI) wave. The company reported a large EPS beat by 60 cents for its fiscal Q2 2024, despite revenue falling 13.2%. The company raised its estimates and laid out high expectations for the demand cycle driven by the explosion in AI applications.
It also caused shares of spin-off virtualization provider VMWare Inc. (NYSE: VMW) and rival computer manufacturer Hewlett Packard Enterprise Co. (NYSE: HPE) to also rise. 
Surprise EPS Beat
On Aug 31, 2023, Dell released its fiscal Q2 2024 results for the quarter ending July 2023. The Company reported earnings-per-share (EPS) of $1.74 excluding non-recurring items versus consensus analyst estimates for a profit of $1.14, a 60 cent per share beat. Revenues fell 13.2% year-over-year (YoY) to $22.93 billion, beating consensus analyst estimates for $20.86 billion by $2.09 billion.
Revenues By Segment
Dell's business is split between two segments.
The Infrastructure Solutions Group (ISG) offers data center products and services, edge computing and the cloud. It sells servers, storage, applications and software in addition to consulting and support. Revenues fell 11% YoY but grew 11% sequentially to $8.5 billion.
The company saw strength in its servers and networking sales coming in at $4.3 billion, driven by the demand in AI-optimized servers. Storage revenue saw sales of $4.2 billion driven by robust demand for its top mid-range storage array PowerStore and its software-defined storage PowerFlex. Operating income was $1 billion.
The Client Solutions Group (CSG) sells hardware like desktops, notebooks, tablets and peripherals. It also offers consulting, implementation and support services. Revenues were down 16.9% YoY to $12.9 billion but rose 8% sequentially. Commercial client revenues were $10.6 billion, driven by growth in workstations enabling enterprises to run complex AI workloads locally. Consumer revenues were $2.4 billion. Operating income was $969 million.
CEO Insights
Dell Technologies CEO Jeff Clark pointed out that the demand environment improved must faster than originally anticipated as input costs fell. He pointed out that while revenues were down YoY, a better demand environment combined with strong execution resulted in extraordinary results for the quarter.
He especially expressed how encouraged he was seeing the macro environment improving in the second half of the year. The underlying demand improvement was better than anticipated in the U.S. and EMEA. Growth was seen in government and small medium-sized business (SMB) as transactional demand grew. It largest global customers still showed restraint with spending.
Powerful AI Tailwinds
AI was a strong tailwind and will continue to be for all things data and compute. Dell had unprecedented strength from its PowerEdge XE9680 server, its fastest ramping new solution in history. The PowerEdgeXE9680 is a GPU-enabled server and key element to its Dell Generative AI Solutions engineered to "…speed the deployment of a modular, secure and scalable platform for generative AI in the enterprise." Customers are using their own data and business to train Generational AI models with focus on 4 Gen AI use cases. Clark proclaimed, "… we have the world's broadest Gen AI infrastructure portfolio that spans from the cloud to the client."
Nearly $2 Billion Backlog for PowerEdge XE 9680 Servers for AI
CEO Clark commented, "From a solutions perspective, we saw significant strength in AI-enabled servers… Workstation demand grew and was another bright spot that will continue to benefit from the rise of AI developers and data scientists can now fine-tune Gen AI models locally before deploying them at scale." AI service increased 20% of its servers order revenue. Its PowerEdge XE9680 server has nearly $2 billion in backlog orders driving its sales pipeline "substantially higher".
Dell Technologies analyst ratings and price targets are at MarketBeat.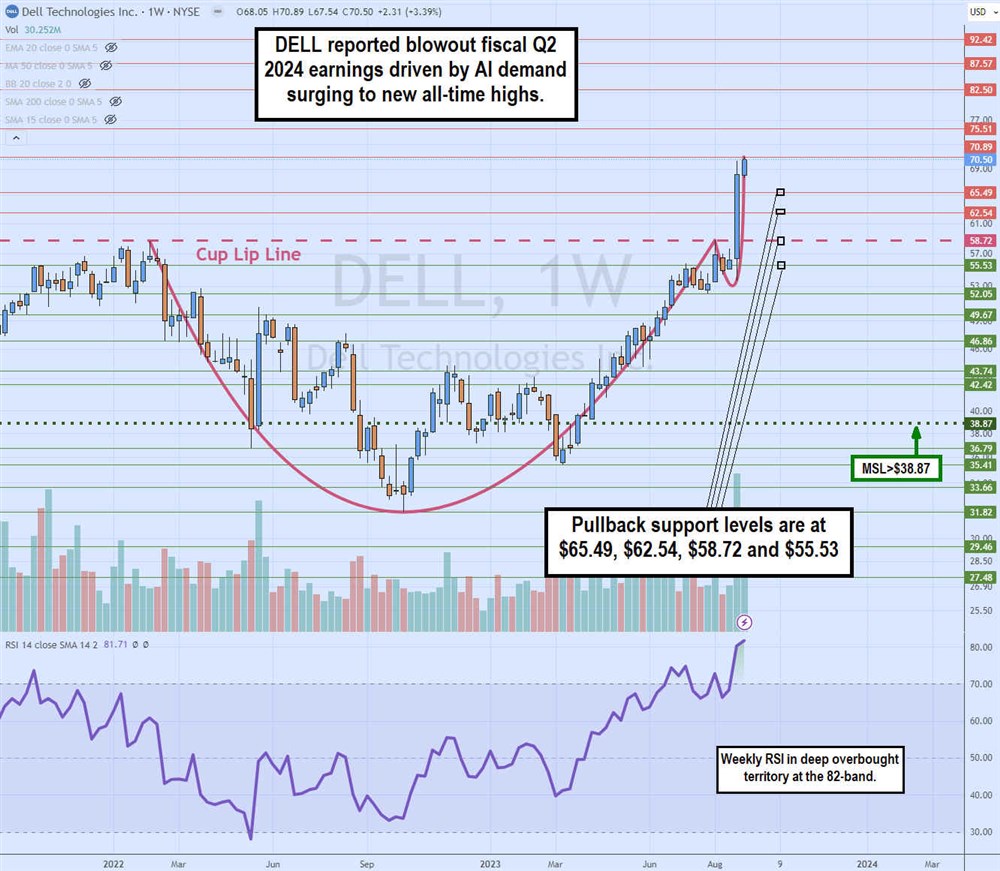 Weekly Cup and Handle Breakout
DELL triggered a cup and handle breakout pattern on its fiscal Q2 2024 earnings release. The cup lip line formed after peaking at $58.72 in February 2022 as shares fell to a low of $31.82 by October 2022. As the weekly relative strength index (RSI) oscillator continued to climb up through the 50-band, DELL triggered a weekly market structure low (MSL) breakout through the $38.87 trigger.
Shares managed to steadily grind higher to test the lip line at $58.72 in August 2023 before a shallow pullback to $53.62. Shares surged through the cup lip line on the earnings release, sending shares to new all-time highs at $70.89. The RSI is in deep overbought territory at the 82-band. Pullback supports are at $65.49, $62.54, $58.72 and $55.53.