Financial News
AI-powered IoT Automation is Driving Samsara To New Highs
June 07, 2023 at 07:04 AM EDT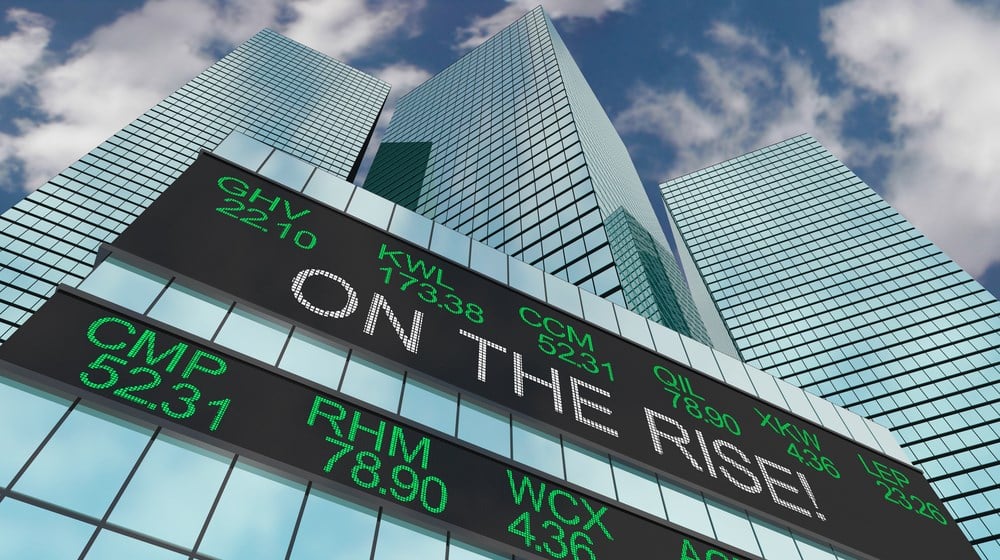 Samsara, Inc. (NYSE: IOT) stock surges through 52-week highs on the heels of its fiscal Q1 2024 earnings and raised guidance. Samsara puts theory into action, making internet-of-things (IoT) a reality for companies with its Connected Operations Cloud (COC) platform. The company is a benefactor of the mainstream artificial intelligence (AI) fervor that's making enterprises take notice of its benefits. This has been echoed by C3.ai Inc. (NYSE: AI), Palantir Technologies Inc. (NASDAQ: PLTR) and UiPath Inc. (NASDAQ: PATH). Observability is a hot theme with enterprise networks, cloud and IT. Samsara aids in digital transformation and automation for enterprises and added 138 large customers with annual run rates (ARR) over $100,000, up 53%. Its customers are the "backbone" of the world's economies.
God View
Like a proverbial "eye in the sky" of "God view" in gaming, Samsara's COC is the embodiment of observability for industrial enterprises as its sensors collect oceans of data around the clock, feeding and training its AI engine to improve workflows, spot and identify inefficiencies and trends. Samsara enables industrial companies to view and collect robust real-time data through connected sensors and HD cameras. Companies can monitor their fleets in real-time, gather robust data, enforce safety, and record details in the unfortunate event of an accident. HD video and computer vision models help determine driver liability and gather evidence for claims or lawsuits. Detect everything and analysis. Samara provides digital real-time video evidence in the event of accidents.
AI-Powered
The platform provides a virtual window into facilities, fleets, floors, warehouses and any business that would benefit from IoT. The platform accommodates many industries, including construction, retail, field services, energy, agriculture, wholesale, manufacturing,  transportation and logistics. AI powers provide insights and predictive analytics to make quick decisions and control situations instead of having situations control them. AI has been a core driver for building its platform to deliver rapid ROI by transforming data into business impact. Its data moat is a competitive advantage.
Profitability Edging Closer
On June 1, 2023, Samsara released its fiscal first quarter 2024 earnings report for the quarter ending in March 2023. The company saw an earnings-per-share (EPS) loss of ($0.02), excluding non-recurring items, versus consensus analyst estimates for a loss of (-$0.05), beating by $0.03. Revenues rose 43% year-over-year (YoY) to $204.3 million, beating analyst estimates of $191.9 million.  Annual run rate (ARR) grew 41% YoY at $856.2 million. Clients with ARR over $100,000 grew 53% YoY to 1,375.
CEO Insights
Samsara CEO Sanjit Biswas commented, "In this current environment, our customers are prioritizing investments in solutions that help them control costs and deliver rapid ROI by running safer, smarter, and more efficient operations." He highlighted how Samsara is driving "meaningful business impact" for its customers, looking to double down on AI-based safety technologies, digital workflows to boost the efficiency of the frontline workforce and enhanced data integration to boost asset utilization in the field.
AI Impact
CEO Biswas also expressed how AI has improved efficiency, safety and sustainability for its clients. He commented, "The magnitude of AI's impact on the world of physical operations is clear, and Samsara is positioned to be on the forefront of this technological revolution because of 3 unique competitive advantages." The company has a massive operation data set due to the six trillion data points flowing into its COC annually. Samsara has continued to build its infrastructure for more efficient training and the evolution of its AI to generate data-driven solutions for its clients.
Elevating the Bar
Samsara provided upside guidance for fiscal Q2 2024 EPS losses of ($0.03) to ($0.02) versus ($0.03) consensus analyst estimates. Fiscal Q2 2024 revenues are expected between $206 million to $208 million versus $201.1 million. The company raised fiscal full-year 2024 EPS loss of ($0.02) to $0.00 versus ($0.07) estimates and revenues between $866 million to $874 million versus $846.3 million analyst estimates.  
Samsara analyst ratings and price targets can be found on MarketBeat.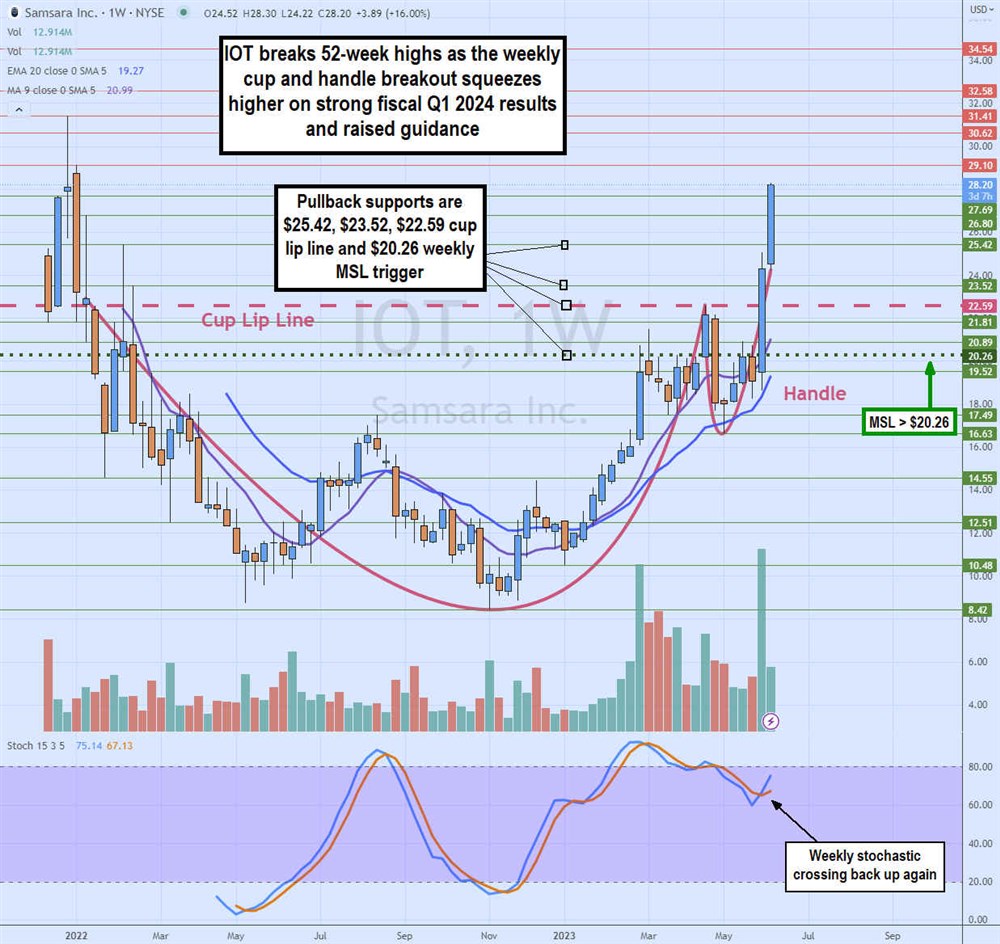 Weekly Cup and Handle Breakout
The weekly candlestick chart on IOT commenced its cup formation forming the cup lip line after peaking at $22.59 in January 2022. Shares continued to a low of $8.73 in May 2022 before staging a rally on an initial market structure low (MSL) breakout through the $11.35 trigger. IOT peaked at $17.49 in August 2022 before selling off to a new low of $8.42 at the end of October 2022. This also brought the weekly stochastic down under the 20-band, triggering a reversal and mini-pup bounce.
IOT ground to retest the cup lip line resistance at $22.59 in April 2023. Shares fell on a sharp pullback to form a handle low at $16.63 in May 2023 to stage the cup and handle breakout on the higher MSL trigger break at $20.26 through the $22.50 cup lip line as shares squeezed up to $29.10 on heavy volume powered by its fiscal Q1 2024 earnings and raised guidance. Pullback supports are at $25.42, $23.52, $22.59 cup lip line and $20.26 weekly MSL trigger.