Financial News
Meme-Stock AMC's Plan To Convert More Shares Headed For Court
March 15, 2023 at 09:34 AM EDT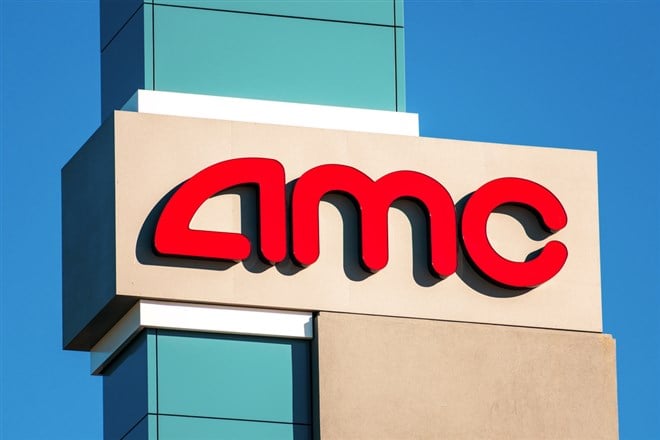 The spectacle of a favorite meme stock, AMC Entertainment Holdings Inc. (NYSE: AMC) continues to play out on Wall Street's big screen.
On March 14, shareholders voted to issue new shares of stock with the hope that a new infusion of cash can stave off bankruptcy. 
Following the news, AMC shares closed 15.02% lower, at $4.64.  
AMC's financial moves are playing out against a backdrop of litigation. 
The company said in January that it would hold the special shareholders' meeting on March 14 with the aim of issuing more shares, as well as approving a reverse split of the company's stock. It would convert its preferred shares, AMC Preferred Equity (NYSE: APE) units into shares of common stock. 
Preferred Shareholders First In Line
Preferred shares are equity with some characteristics of debt. For example, preferred shareholders are ahead of common shareholders in the line to receive dividends, and they also have a greater claim on assets in a corporate liquidation, although less than bondholders' claim. You can see why that preferred treatment might appeal to investors in the case of a troubled company like AMC. 
However, the tradeoff is: Preferred shareholders get no voting rights in how the company is run. 
But APE faced a monkey wrench when Pennsylvania's Allegheny County Employees' Retirement System filed a lawsuit against AMC. It claimed that by issuing the APE shares, AMC was acting against the interest of common shareholders who don't further dilution of their ownership stake. 
A judge ruled that the March 14 vote could proceed, but that implementation of the share conversion would have to wait until a ruling about the substance of the pension fund's claims. 
A hearing on the matter is set for April 27.
Meme-Stock Frenzy
AMC became part of the meme-stock trading frenzy in 2021. That new cash from retail investors sent share prices as high as $72.62 in May of that year, but it ultimately wasn't enough to lift the company's fortunes. 
The turbo-charged trading began in January 2021, with the stock rising 50% the week ended January 22. With that windfall, the company turned to the debt and equity markets and raised $917 in new capital. The following week, the stock advanced more than 277%. 
The company raised more than $2 billion in 2021. But the troubles persisted, and not all were unique to AMC.
The entire movie exhibition industry was battered in 2020, but according to polling organization Gallup, theater attendance was trending lower even before Covid-driven shutdowns in 2020. 
In a January 2022 report, Gallup said a 2019 poll "found that moviegoing was already lower than in 2001. This trend was also documented by movie industry analysts, who noted that an increase in at-home streaming services was resulting in lower attendance at movie theaters."
According to entertainment-industry trade publication The Hollywood Reporter, "The good news: Domestic box office revenue this year is up more than 37 percent. The bad: That's down 22 percent from 2019."
Attendance Still Below 2019 Levels
Third Bridge analyst Jamie Lumley amplified that notion in a statement. "AMC is looking at the backdrop of the North American box office in 2022 grossing around 35% below 2019," he wrote. "We've heard from our experts that the next two to three years will likely see the box office gross 30% to 40% below pre-pandemic revenues which raises serious questions about how AMC can stem losses and manage its debt load." 
"Our experts highlight that AMC has limited headroom to increase concession and ticket prices. While entertainment spend has some insulation in a recessionary environment, overall this is not conducive to AMC driving revenue growth," Lumley added.
AMC is not alone in seeing declines in attendance.
Other Chains Eyeing Profitability
However, fellow theater chains Cinemark Holdings Inc. (NYSE: CNK) and Marcus Corp. (NYSE: MCS), along with specialty theater operator Imax Corp. (NYSE: IMAX) are all expected to turn a profit this year, while analysts see AMC remaining in the red. Nonetheless, all are fighting the battle of lower attendance. 
MarketBeat analyst data show a consensus rating of "reduce" for AMC's shares, not exactly a vote of confidence. The price target is $3.12, representing a 32.76% downside from the March 14 close. Shares were already down 19.30% in the past three months, although they've rallied 14% since the start of the year.
On Shaky Footing
Recent trends aside, the ongoing drama of the theater chain doesn't get glowing reviews. 
"AMC holding this vote underscored the fact that the company remains on shaky footing and is in need of capital to help manage a persistently tough environment for theater operators," wrote Lumley.
"The vote's result shows that there is an avenue for AMC to raise much-needed capital, but there is still some uncertainty going into the hearing in April. However, even with additional funds, the road ahead for AMC faces its fair share of challenges," he added.