Financial News
Boss Firearms Company LLC, Direct Distributor of LMT Defense Products, Offers Discount On Signups
August 29, 2023 at 11:15 AM EDT
College Station, TX - Boss Firearms Company LLC directly distributes LMT defense products in Bryan, College Station, and its environs. The gun shop focuses on scouting and carrying the best firearms and components to serve its customer base. Its stock of quality products also extends to trusted manufacturers like Heckler and Koch, Surefire, Q LLC, LWRC, Volquartsen, Knights Armament, and more.
Speaking on their commitment to carrying the best quality firearms, accessories, and components, the store's founder noted that they do everything by the books. He added: "We are a type 01 Federal Firearms Licensee and a 03 Special Occupational Taxpayer. This means we are able to provide nearly any type of firearm, suppressor, accessory, and some machine guns. We strive to provide excellent customer service, and if you are not satisfied with any aspect of your purchase, please let us know!"
Welcoming community members to the gun shop, its founder noted that they carry various Lewis Machine & Tool Co products. The shop's inventory includes options like LMT Defense Sopmod Buttstock, LMT 5.56 receiver extension, LMT Advanced technologies ion 30 rifle silencer, LMT AR-15/AR-10 Axle two stage semi-auto trigger group, LMT defense 7.62 NATO barrel assembly 20" Stainless steel, LMT defense .300 Blackout 16" Chrome lined MRP Barrel Assembly, LMT Defense .308 Extension Tube, and more.
Customers can browse the section of LMT's high-performance firearms and tactical solutions. The products have been described as being at the forefront of innovation and state-of-the-art engineering, thus delivering excellent rifles, carbines, and accessories perfect for military, law enforcement, and civilian use.
Joseph Mitchell of Boss Firearms Company welcomes customers to explore their vast selection of precision rifles, AR-15 platforms, tactical gears, and other products. He promises that customers will enjoy quality craftsmanship and firearms that can withstand the harshest environments while delivering peak performance.
Other than their selection of LMT products, customers can also browse the gun shop's selection of Benchmade knives. The gun shop's inventory includes precision-crafted knives for various purposes, including outdoor use like camping and hunting. Customers will be able to sort through different options, from Benchmade automatic knives to folding knives, kitchen knives, fixed-blade knives, and much more.
Those looking to shop for body armor will also find an excellent selection at Boss Firearms Company LLC. Their inventory includes Guard Dog Body Armor Dane Quick Release Plate, Guard Dog Body Armor Shepard Level 3 Armor Plate, Guard Dog Body Armor Shepard Quick Release FDE Plate Carrier, and more.
Boss Firearms Company LLC's inventory also includes used guns, ammunition, optics and accessories, and more. Customers can visit them at 11400 SH 30 Suite 702, College Station, Texas 77845, United States, or call 979-704-6269 for inquiries.
Media Contact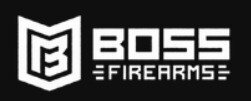 Company Name
Boss Firearms Company LLC
Contact Name
Joseph Mitchell
Phone
979-704-6269
Address
11400 SH 30 Suite 702
City
College Station
State
Texas
Postal Code
77845
Country
United States
Website
https://www.bossfirearms.com/