Financial News
On the Red Carpet: Actress Dilara Foscht Talks Her Latest Role in the "Outrunners" Feature Film
March 24, 2023 at 19:44 PM EDT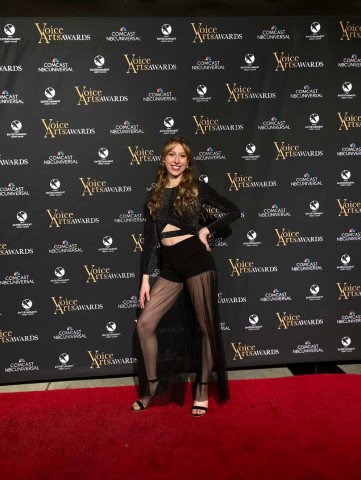 We recently had the opportunity to chat with newcomer actress Dilara Foscht. The enthusiastic Austrian actress began her career in theater in Austria and Germany and is now working all over the world, from North America to Europe. The young actress told us about some of her most recent projects. The feature film "Outrunners," directed by Ken Hegan and starring Dilara as a key supporting character, premiered recently in Vancouver, Canada. The film is about a determined young woman, Emily, who races to save her mother's life while dodging snipers and reality show cameras during a global pandemic lockdown. Outrunners is a comedy thriller that feels like a cross between The Hunger Games and Game Night.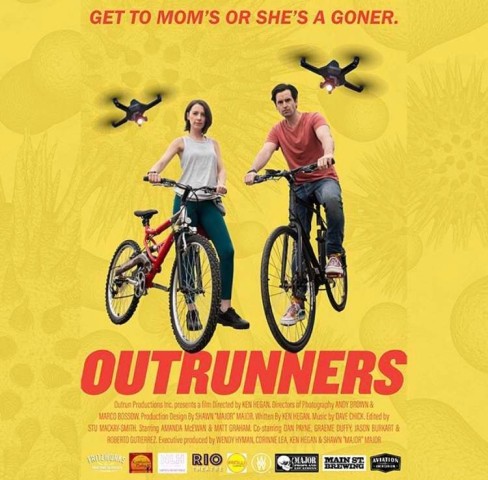 The comedy thriller Outrunners premiered in the fall of 2022, just as we were recovering from our own pandemic. This feature film (directed by Ken Hegan and produced by Shawn Major) dealt with a similar topic. A pandemic rocks the world, altering our interactions with others and our outlook on life. The feature film premiered in Canada in Vancouver in October 2022 and is currently on the festival circuit. We learned more about Dilara Foscht's work and her time on the Outrunners set during our interview with her.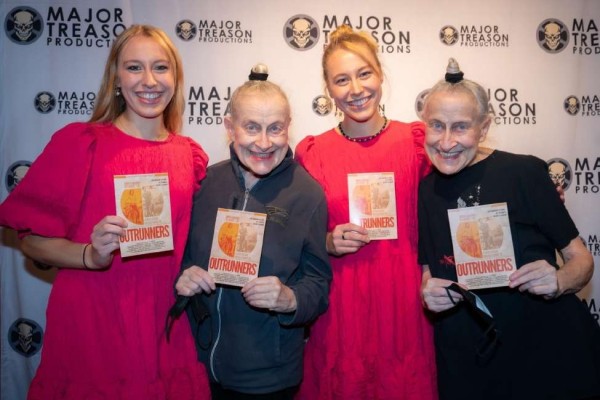 (Actress Dilara Foscht on Left and Actress Bianca Foscht Right)
The Austrian actress shared with us some insider information about the casting process of her role.
I believe I was cast pretty late compared to other actors, to be honest. (laughs)I remember my friend (Shawn) Major reached out via email one day, asking me about my availability. I remember him saying he is working on a project and my twin sister (Bianca) and I´d be perfect for it. I didn´t even read the script. I agreed upfront,- but just because I knew and trusted the team." - Dilara Foscht
Foscht also shared with us that is was an exciting experience to portray a German/ Austrian character in a Canadian production.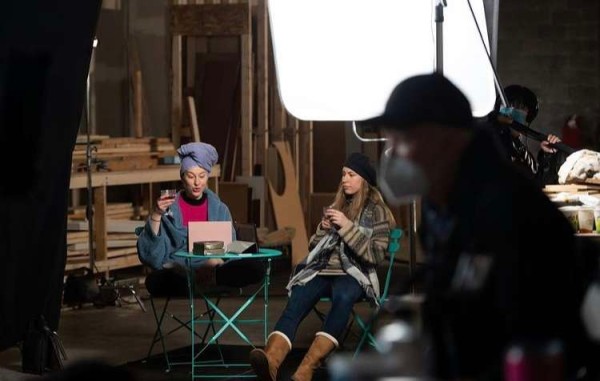 (Actress Dilara Foscht on Left and Actress Bianca Foscht Right)
"It was really interesting. Before Outrunners, I have only experienced acting in the same language that the crew is communicating in. For this project, however, it was different. Since I was portraying a German- speaking character I was acting in German, but the crew around me communicated in English. All "cutting" and "rolling" felt like they were addressed to somebody else. It felt like a time jump."
When asking the actress how the director dealt with the language barrier she replied: "Ken was amazing. I didn´t know if they would have a translator on set or not but they actually didn´t need anyone. Ken was working very phonetically. He gave me a lot of freedom to improvise around the lines. When I made him laugh, even though he didn´t understand a word I was saying, we were good to go. If the comedy travels without the literal understanding of what is being said,- I believe that´s a good sign."
The Austrian also shared with us how she prepared for the role."I always saw the movie a little bit like The Truman Show. Only that the stakes are higher. Since my character basically follows Tod´s and Emily´s every step on "reality TV", I really wanted to make sure to understand how the fake "reality show" worked and what drew the watchers to watching it. I also really familiarized myself with the "characters" of the show. As a "superfan" those are all the things you would know. Personally, I love doing research on different time periods or different subject matters.
In this case, it was a little bit of a challenge, since the time period was more or less "the future",- almost like an alternate- universe, in which the world also finds itself in a pandemic. My preparation for this role was pretty similar to my usual procedure,- breaking down the script and all the scenes my character is in,-understanding the storyline, plot, character development, and especially the relationships between each character is so important to me. The only difference was really that I could talk in my mother tongue. Since I had the freedom to rephrase lines that didn´t come naturally, I felt easily connected to the text."
Dilara also shared that since she was starring with her identical twin sister Bianca Foscht, also an actress, there has been quite some confusion on set.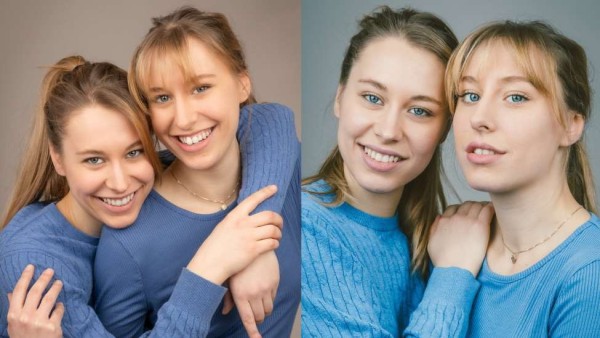 "I really love working with my twin sister on set. It´s really fun and don´t get me wrong, but sometimes it can be really exhausting too. (laughs) People tend to confuse us a lot especially when we are wearing similar hairstyles and clothes. I already unconsciously listen my sisters name even though it´s not my name. It´s really weird We are very different in personality though."
The movie had its premiere in Vancouver but what happens next?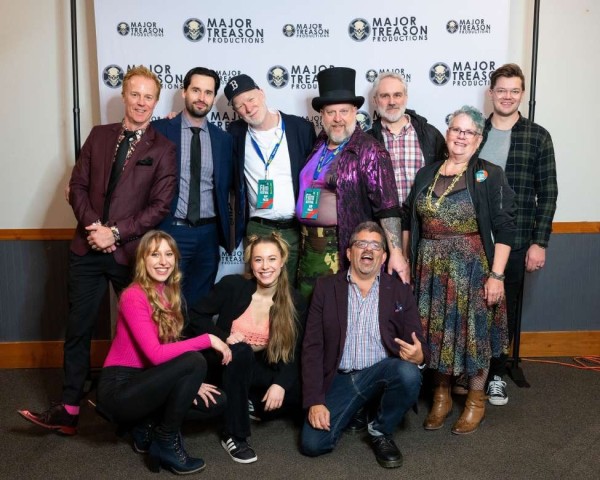 (Actress Dilara Foscht on Left and Actress Bianca Foscht Right)
"We had a wonderful premiere of the movie at the Rio theatre in Vancouver. They are super supportive and involved in the Vancouver film industry. Especially for independent filmmakers, they are a life saver. And the movie is going on the festival circuit now. I just recently learned that the movie was accepted at the Kamloops Film Festival, which is super exciting. And then we will see where distribution goes from there. Especially nowadays, with so many streaming platforms around there are a lot of possibilities.
"When ending our discussion with Dilara she mentioned that the success of the movie and her personal experience would have not been that great if it wasn´t for the crew and the entire creative team.
"Honestly, working on a character is one part of the journey but experiencing how the character comes to life on set, is a completely different chapter. The environment plays such a crucial part for me. The more comfortable I feel there more I am able open up and let the creativity in. And the Outrunners crew has been absolutely amazing. Ken (the director) created an environment where no ideas would be judged and creativity was just naturally flowing. Thanks to our producer Shawn Major the days on set went flawlessly.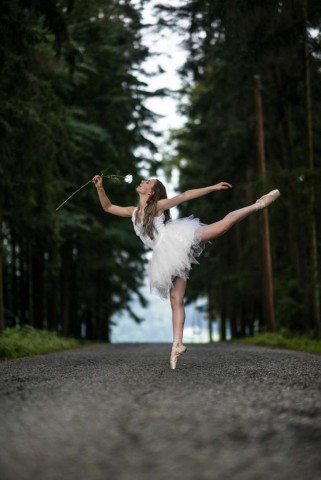 After dancing professionally, Dilara started to pursue her talents in the entertainment industry started performing on stage, as well as on set in Austria and Germany. Foscht started acting at the TaO youth-theater company in Graz, which lead her to being cast, as the lead, in her first theater production. Later, Foscht studied at the Athanor Akademie of Performing Arts in Germany until she relocated to Vancouver.
Besides Dilara's European training in theatre and film, Foscht worked with renowned acting coaches and studios around the world, such as David Lee Strasberg, Anthony Meindl - AMAW, The Second City, John Homa, and Harry Shifman. Foscht was also trained by well-known voice coaches such as Bob Corff and Bruce Eckstut to name a few.
Actress Dilara Foscht In 2019 Foscht received the Movieoke Award for an 'Outstanding Scene Performance' in Austria.
Apart from acting, Foscht loves to write and produce her own stories, most commonly together with her identical twin sister Bianca Foscht, who she often describes as "her better half". Foscht also is an experienced horseback rider with proper equestrian training and she enjoys singing, dancing and educating herself in multiple fields, in her spare time.
KEEP UP WITH THE LATEST ON ACTRESS DILARA FOSCHT ON SOCIAL MEDIA:
(Actress Bianca Foscht on Left and Actress Dilara Foscht Right)
IG: https://www.instagram.com/dilara_foscht/?hl=en
OFFICIAL WEBSITE: https://www.dilara-foscht.com/?lang=en
Media Contact
Company Name: Dilara Foscht Talent PR
Email: Send Email
Country: United States
Website: https://www.dilara-foscht.com/?lang=en